PRINT THIS ARTICLE
TRADING SYSTEMS
---
Will ParaSar Be On Target?
08/19/09 09:19:29 AM
---
by Donald W. Pendergast, Jr.
---
The tried-and-true ParaSar system is at it again, churning out yet another low-risk buying opportunity, this time in Target Corp., the Minneapolis, MN-based retail giant.
Security:
TGT
Position:
Buy
Perhaps J. Welles Wilder wasn't aware of how successful his ParaSar trading system would become, way back in June 1978 when he first introduced it to the trading community in his classic New Concepts In Technical Trading Systems. It's an amazing system, one that can easily be tweaked to improve its bottom-line performance. Even better, this system has just issued a new buy signal for Target Corp. (TGT), a stock with superior relative strength versus the Standard & Poor's 500. See Figure 1.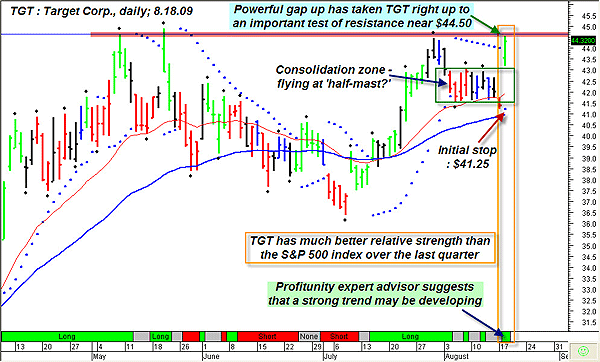 FIGURE 1: TGT, DAILY. A momentum players dream? A ParaSar buy signal occurring in the wake of a powerful gap higher into a triple-top resistance zone, launched from a consolidation zone that may be the proverbial flag flying at half-mast?
Graphic provided by: MetaStock.
Not only do we get a new ParaSar buy signal, but this long entry signal arrives in the wake of a powerful gap higher by TGT, one that takes it smack-dab into a strong area of overhead resistance near $44.50. This is the fourth time in less than four months that this price zone has been challenged by TGT and, given that the stock has very strong relative strength versus the S&P 500 (based on a 13-week rate of change calculation), such powerful advances shouldn't be taken lightly. Even the reliable Profitunity (by Bill Williams) MetaStock Expert Advisor is chiming in with a green long confirmation color bar near the bottom. If you already own MetaStock, be sure to use the wealth of Profitunity expert advisors contained within; you'll gain insights about the nature of trading that will alter your worldview about how the financial markets really work.


Trade implementation on this TGT setup is very simple; if you're the aggressive type, a buy-stop at Tuesday's high near $44.60 in anticipation of strong follow-through should the major resistance line (as discussed) be taken out on heavy volume. Mild-mannered, "Walter Mitty" types might instead wait for an intraday pullback (a real possibility after a gap move up into major overhead resistance) entry, hoping that TGT may dip lower (attempting to fill the open gap) before snapping back higher. Once in the trade with your desired number of shares, simply place an initial stop-loss at about $41.25, the location of the lower ParaSar trailing stop (blue dots below the price bars on the chart). As each new daily bar prints, the ParaSar stop will adjust upward according to the formula programmed into MetaStock (or whatever charting program you actually use). Then all you need to do is adjust your trailing stop to match the price of the ParaSar trailing stop and you'll be all set. Eventually, you'll be stopped out for either a profit or a loss automatically.

While no one knows how this particular trade signal will fare, at least we know that the odds are in favor of a long entry at this time, given the weight of the technical evidence on the chart. ParaSar has been cranking out trading signals for more than three decades now, and it appears to be destined to be around for at least as long as the stock and commodity markets are. Give this system a try, paper-trading it on the stocks and futures you normally follow, and see if you can't learn a thing or two from it. You'll be pleasantly surprised.


---
Donald W. Pendergast, Jr.
Donald W. Pendergast is a financial markets consultant who offers specialized services to stock brokers and high net worth individuals who seek a better bottom line for their portfolios.
Title:
Writer, market consultant
Company:
Linear Trading Systems LLC
Jacksonville, FL 32217
Phone # for sales:
904-239-9564
E-mail address:
lineartradingsys@gmail.com

Traders' Resource Links

Linear Trading Systems LLC has not added any product or service information to TRADERS' RESOURCE.
---
Click here for more information about our publications!
Comments
Date:
 08/19/09
Rank:
 5
Comment:
PRINT THIS ARTICLE