As the infamous credit crunch of 2007-08 played out, the stocks of many firms in the banking, mortgage and brokerage groups were absolutely decimated (if not outright delisted after some actually fell to less than $1 per share) as retail investors and institutions sought to exit such stocks as quickly as possible. The result was ugly and anything but profitable as the entire broad US market fell in sympathy, with even shares of solid companies being sold off by investors desperate to raise cash. Fast forward to summer 2009, and you'd think that we were all living in a different world, one in which the 2007-08 market debacle had never even happened. Let's look at Fidelity Select Sector Brokerage and Investment Management fund (FSLBX), which was near dead-last in relative strength until a few months ago, and analyze its rapid rise in the relative strength rankings over the past few weeks.



FIGURE 1: SELECT SECTOR RANKINGS. Just a week ago, FSLBX held the #9 slot in the Select Sector rankings hierarchy; note how it had already begun to outpace both FSDCX and FSAGX over the past three months.
Graphic provided by: MetaStock.
Figure 1 shows the relative strength rankings for all of the 42 Fidelity Select Sector mutual funds as of July 31, 2009; the automotive industry stocks were still on top (and getting stronger), followed by stocks in the technology and basic materials sectors. FSLBX was in ninth place, with a score of 19.00. If you'll view the three-month relative strength column, you'll also see that FSLBX had already begun to outperform both the communications group (FSDCX) and the gold group (FSAGX, an early warning that FSLBX was poised to gain more ground, potentially displacing some of the higher-ranked funds.



FIGURE 2: SELECT SECTOR RANKINGS, A WEEK LATER. A week later, FSLBX has risen by six slots, doubling its relative strength ranking in the process. The entire range of financial sector industry groups are also gaining ground at a rapid pace.
Graphic provided by: MetaStock.
Now we view the most recent relative strength ranking of the same funds on August 7, 2009, just one week later (Figure 2). Suddenly, FSLBX has moved up by six slots, doubling its cumulative relative strength score. And while the automotive and various technology groups are still strong, note that the gold mining stocks (FSAGX) have been dropped from the list of the top eight funds. Even more interesting to note is that the entire financial sector is moving up, with stocks from the banking, financial services, and insurance groups moving up to take slots 9, 10, and 13, respectively. Apparently, the big money folks are beginning to put more of their cash to work in the stocks of the financial sector instead of into the stocks of the gold mining group and communications groups.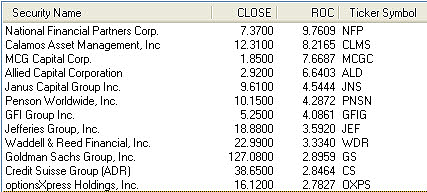 FIGURE 3: SELECT SECTOR RANKINGS. The top 12 brokerage/investment management-related stocks, based on a 13-week rate of change calculation versus the S&P 500.
Graphic provided by: MetaStock.
So what to make of all this rankings hoopla, anyway? Well, here are a few suggestions. Since the evidence shows that more money is being plowed into the financial sector as this historic bull rally continues, why not take some time and consider selling covered calls against the strongest stocks within the banking, brokerage, insurance, and financial services groups? Momentum precedes price, as they say, and given that these stocks are rising so rapidly, this may suggest that a major trend move is in progress. Alternatively, traders looking to cash in on short-term pullbacks against the uptrending moves might find that to be a perfectly sound strategy. Look for stocks with good average daily volume (say, 500,000 avg daily share volume over the past 50 days) and close bid-ask spreads if you choose to go for short-term swing trades. Covered-call aficionados will need to seek out the same kind of liquid stocks as swing traders, also being sure to check the liquidity and bid-ask spreads on the call options they may wish to utilize for any desired covered call positions.


Right now, Figure 3 shows the top 12 stocks in the brokerage industry group, ranked by a 13-week rate of change calculation versus the Standard & Poor's 500. All have been screened to assure they each meet the minimum average daily volume criteria suggested. Put these stocks on your watchlist this week, evaluating each for a possible retracement entry move and/or a covered call sale.