PRINT THIS ARTICLE
SENTIMENT INDEX
---
Sentiment Measures Require Context
08/10/09 01:15:51 PM
---
by Mike Carr, CMT
---
The AAII Sentiment Survey shows that 50% of individual investors are now bullish. Is that a cause for concern?
Security:
SPY
Position:
N/A
Contrary indicators are usually interpreted simplistically: When there are too many bulls, the market will turn down. Excessive bearishness will inevitably lead to a decline. The problem with this approach is that the crowd will only be wrong at turning points. It takes buyers to move a market higher, and increasing bullishness is a vital component of any bull market. So a simple analysis of sentiment surveys will work sometimes, and will not work at others.


Sentiment also needs to be looked at on a relative basis. Most sentiment indexes, with the exception of AAII's data, are available only on a subscription basis. In Figure 1, we show the Genesis Sentiment Index, which places the data in relation to the most recent 26 weeks.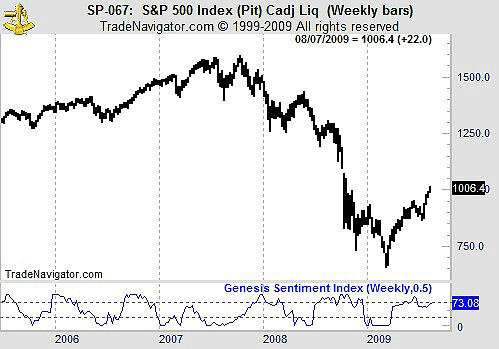 FIGURE 1: S&P 500, WEEKLY. Sentiment, although high, is still not at an overbought extreme.
Graphic provided by: TradeNavigator.com.
This index timed the top in late 2007 but was early twice in 2006 and remained high throughout most of the carnage in 2008.


Combining sentiment with buying power offers an additional level of insight into investor attitudes. AAII has shown the number of bulls rising in a choppy manner since the March lows. At the bottom, less than 19% of individuals were bullish and more than 70% bearish. Looking at cash in money market funds shows that as these investors turn bullish, they have a lot of money to back up their opinions.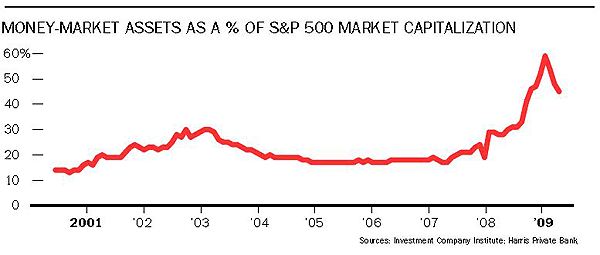 FIGURE 2: MONEY MARKET ASSETS. Total assets in money market funds represent 42% of stock market capitalization.
Graphic provided by: Barrons.com.
In Figure 2, we see that the amount of cash in money market funds is near a record high when measured as a percentage of stock market capitalization. Investors have more than $3.6 trillion available to but stocks. Bulls with money should lead to higher prices.

Placed in context, we see that sentiment indexes offer clues as to market direction. It should be considered as only one factor in market analysis. At this time, with such a large amount of cash on the sidelines, sentiment can, in all likelihood, go much higher without indicating that a market decline is imminent.


---
Mike Carr, CMT
Mike Carr, CMT, is a member of the Market Technicians Association, and editor of the MTA's newsletter, Technically Speaking. He is also the author of "Smarter Investing in Any Economy: The Definitive Guide to Relative Strength Investing," and "Conquering the Divide: How to Use Economic Indicators to Catch Stock Market Trends."
---
Click here for more information about our publications!
Comments
Date:
 08/10/09
Rank:
 3
Comment:
PRINT THIS ARTICLE