What a long, strange trip it's been for natural gas bulls during 2008-09. The ride south has been steeper and more treacherous than the most challenging ski slope at Taos, almost seeming at times as if the entire nat gas market had lost all sense of sanity in regards to underlying commodity values. With the front-month contract having actually dropped into the $3 price bracket (earlier this year), it was hard to believe that a meaningful reversal could ever take place during 2009. In this article we'll examine the daily chart of the United States Natural Gas Fund LP (UNG), an exchange traded fund that deals in various natural gas futures contracts, offering retail equity investors/traders the opportunity to participate in the action in the nat gas market with more manageable risk exposure. See Figure 1.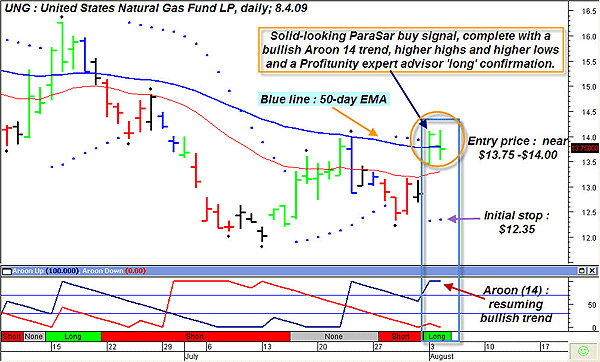 FIGURE 1: UNG, DAILY. Favorable technicals combined with bullish seasonal characteristics help make this a long entry signal worthy of consideration.
Graphic provided by: MetaStock.
To begin, let's get a better grasp on just why this new buy signal in UNG is any better than the past three ParaSar buy signals, most of which wiped out all of the gains from the successful buy signal that printed in late April (good for a 14% gain in two and a half weeks). This particular buy signal appears to carry more weight because of two technical measures and one unusually important fundamental factor:

1) The long-term Chaikin money flow (CMF) (150) indicator trend appears to have found solid support above its zero line, building a flat base.

2) The Aroon (14) trend intensity indicator (bottom of Figure 1) has completed a successful test of support in its own right; look at how it briefly dipped beneath the 70 line before snapping right back up to the 100 area, where it is situated right now.

3) The seasonal price cycle for natural gas is favorable for bulls right now, as this energy commodity typically makes a seasonal low during late July to early August.

Even better, to have these three factors manifest even as the MetaStock Profitunity (Bill Williams) expert advisor moves into long mode (see green rectangle near lower right corner of chart) as price takes out the July swing high at $14.00 seems to be telegraphing the intentions of this market to begin another move back up from the gutters of its long-entrenched bear market.


Trade management is easy; to risk 1-2% max of your account equity, consider entering at a price somewhere between $13.75 and $14.00, maybe waiting for a 30-minute chart pullback to get a slightly better entry price on at least part of the position. Once filled on your entire position, place your trailing stop-loss near $12.35, the current lower ParaSar dot. Then do nothing! Just let the ParaSar indicator take you out of the trade (either at a profit or loss) as you adjust your trailing stop with each upward movement of the lower ParaSar dots, which will automatically rise each trading day (be sure you have accurate data for your evening download, of course), and your trade will be plotted on your chart by your software. You might want to place your stop a few pennies below the ParaSar to avoid a premature stopout, but it's really up to you.

For those of you who are able to trade NYMEX natural gas futures options, you might also be able to sell a far out-of-the-money January 2010 $4.30 natural gas put for almost $1,400 (based on a settlement price of 0.139 as of August 4, 2009). January 2010 natural gas settled at $5.951 on August 4, 2009, so you'd have a very nice price cushion (of almost 28%) by selling this far out-of-the-money put set to expire in mid-December 2009. That $1,400 in premiums you'd receive for selling the $4.30 put doesn't come without risk, of course, but given all of the bullish technicals and seasonals, this put sale is about as low risk as they come. Just make sure to buy the put back if it doubles in price, should natural gas decide to head back down south in a hurry. Better safe than sorry, unless you wouldn't mind being put a long natural gas contract at $4.30.


Overall, this technical setup looks outstanding, especially in light of the favorable seasonal characteristics of the natural gas market. However, even the best technical setups can go awry, causing unanticipated losses for inexperienced traders. Always predetermine the maximum amount of capital you're willing to lose before you actually place your trade; most professional traders try to limit their risk to 1-2% of their account size, depending on market conditions. Doing so will help you to not only survive a string of losing trades, it may also help you build your account equity at a more rapid pace than you may have thought possible.