The crude oil prices have staged quite a turnaround since March 2009, and the energy services industry group stocks have also risen sharply as well. Right now, the Dow Jones US Oil Services and Equipment Index fund (IEZ) has just offered a convincing buy signal, one occurring after a significant test of support. Let's take a look at Figure 1.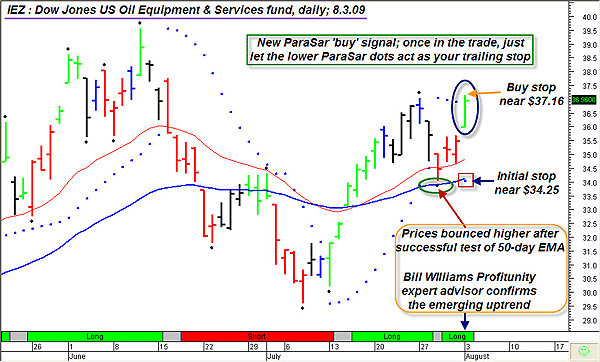 FIGURE 1: IEZ, DAILY. Building your own MetaStock templates can help you design the trading system that best suits your trading temperament and belief system.
Graphic provided by: MetaStock.
If you have MetaStock, you can simply pull up a clean chart of whatever tradable you're interested in and apply the Profitunity (Bill Williams) Expert Advisor. Next, apply the ParaSar indicator to the chart (from the indicator Quick List) and then add a pair of moving averages (the 20- and 50-period exponential moving averages [EMAs]). Save the template under whatever title catches your fancy, so it's easy to remember if you have dozens and dozens of templates already saved.

Now that you have a chart with this particular set of indicators and expert advisors, you need to know what to look for. First of all, ParaSar is more than an indicator; it actually is a self-contained trading system. According to its original design, you'd be long anytime prices are above the lower set of ParaSar dots and short any time prices are below the upper set of ParaSar dots. And that's exactly the setup we have here on the IEZ daily chart for August 3, 2009 -- a fresh ParaSar buy signal. You'll also note that IEZ is moving higher after having successfully completed a proportional retracement test of support near its 50-day EMA (blue line) at the same time that the Bill Williams Profitunity Expert is indicating that a strong uptrend is starting to develop in this particular ETF. Also worthy of note is that the Chaikin money flow (CMF)(34) is also well above its zero line, another tipoff that prices may have some room to run higher with this new buy signal.

All in all, this appears to be a low-risk long trade setup, given the incredible strength in the both the crude oil market and the S&P 500. The trade entry is very basic -- either enter at the next session's open or wait for the signal bar's high price to be exceeded on a buy-stop order. Place an initial stop near $34.25, the current ParaSar exit trigger price, and then let the trade run. The ParaSar dots will rise a little every day as the trade progresses, and if you set your stop-loss at or just below that price every day, you'll automatically be taken out of the trade. This is a great way to trail a stop, as it takes all of the stress out of trying to figure out where to place the stop, trying to second-guess the market, and so on. ParaSar can be a really fun system to trade, especially when the market giving the signal has strong (weak) relative strength versus the broad markets.

For a chance at higher profits, consider drilling down to the component stocks that make up an ETF or index, choosing the strongest (weakest) stocks from any index or ETF issuing a fresh ParaSar buy (sell) signal. Wondering what stocks in the oil services industry group are also firing ParaSar buy signals? Let's find out.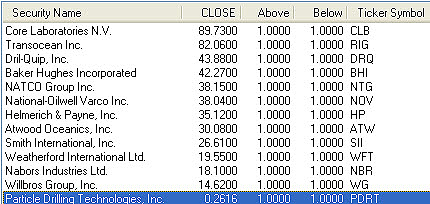 FIGURE 2: IEZ STOCKS. Here are the Oil Well Services & Equipment stocks flashing new ParaSar buy signals.
Graphic provided by: MetaStock.
Figure 2 shows the output of the MetaStock ParaSar exploration that I constructed, this time using the stocks from Metastock's Oil Well Services & Equipment data folder. The highest-priced stocks are at the top of the sort for ease of analysis. But maybe we need to try and whittle this list of stocks down a bit. But how?



FIGURE 3: IEZ STOCKS. Here are the same stocks, this time ranked in terms of their weighted three-, six-, and 12-month relative strength rankings. Note that institutional investors don't usually buy many sub-$5 stocks.
Graphic provided by: MetaStock.
Here's how (see Figure 3). If you'd like to know which of these stocks have had the highest performance over the past three-, six-, and 12-month time frames, we can run another exploration to pick the strongest of these particular oil services group stocks that are also flashing ParaSar buy signals. Note that the strongest ParaSar buy stock in terms of relative strength is very inexpensive (PDRT), selling for only $0.26 per share, so you may wish to deploy your funds into something a little meatier, like the second stock on the list, NATCO Group (NTG), which is going for about $38.15. It has an exceptional chart pattern and has all of the same bullish attributes as its ETF parent, IEZ. Of course, buying 100 shares of PDRT just for fun (all you can lose is $26 plus any commissions!) might also result in a gain -- who knows? Even the mighty Microsoft was once a lowly penny stock, and look what happened. And, of course, any stock whose stock ticker can be loosely translated as Paydirt (PDRT) might be worth a second look, right? At $0.26 a share, sign me up.


Combining the basic ParaSar trading triggers with a few other technical tools can help you fine-tune your trading strategy, especially when you learn to harness the power of relative strength rankings. Trading the strongest stocks from the strongest industry groups at a time when the broad markets are in the midst of a powerful bull run is a very wise, relatively low-risk strategy. Try it, and you'll probably be amazed at how much better your trading results will become.


Comments
Date:
 08/04/09
Rank:
 5
Comment:
Date:
 08/11/09
Rank:
 3
Comment:
 Please look at the bigger picture (weekly) where NTG is just touching a major resistance around 40; plus we have a major bearish daily divergence with the MACD and...the Chaikin you are speaking about. I would certainly not buy here.