PRINT THIS ARTICLE
REL. STR COMPARATIVE
---
Healthy Markets Led By Growth Stocks
08/03/09 09:21:59 AM
---
by Mike Carr, CMT
---
Relative strength can help spot sustained bullish and bearish moves in stocks.
Security:
IWO
Position:
N/A
The key to stock markets moving higher is actually very simple; there must be more buyers than sellers. Using relative strength can help traders spot whether those buyers are more interested in growth or value stocks. In theory, more buying pressure in growth stocks than value is bullish for stocks. This is because this indicates that investors are willing to accept more risk when they buy growth stocks and this indicates they favor stocks above other asset classes.


The same logic applies to the relative strength of small caps compared to large caps. Small caps have more risk and greater relative strength indicates that investors are more interested in stocks than in other assets.


In Figure 1, we show the relative strength of the iShares Russell 2000 Growth ETF (IWO) compared to the Standard & Poor's 500. It is trending higher, a sign that stocks are in a healthy bull market. We can see that clear trends in this ratio existed in 2005 and 2006 as the market trended up and then down. The increase in the ratio in 2008 showed that small-cap growth lost less than the overall market in the bear market.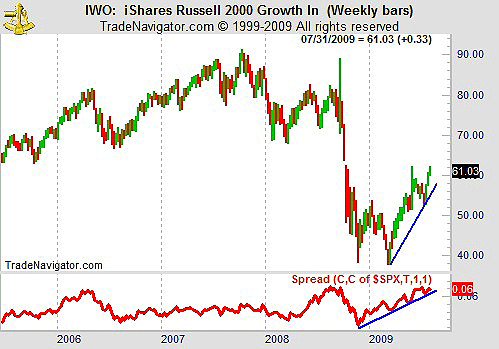 FIGURE 1: IWO, WEEKLY. On a relative basis, small-cap growth bottomed well before the overall market.
Graphic provided by: Trade Navigator.
With small cap growth leading the way, it looks as if there is more room to the upside for stocks.


---
Mike Carr, CMT
Mike Carr, CMT, is a member of the Market Technicians Association, and editor of the MTA's newsletter, Technically Speaking. He is also the author of "Smarter Investing in Any Economy: The Definitive Guide to Relative Strength Investing," and "Conquering the Divide: How to Use Economic Indicators to Catch Stock Market Trends."
---
Click here for more information about our publications!
Comments
PRINT THIS ARTICLE