PRINT THIS ARTICLE
FLAGS AND PENNANTS
---
Constant Contact
07/20/09 11:30:07 AM
---
by Koos van der Merwe
---
Constant Contact Inc. helps small businesses, associations, and nonprofits connect with their customers, and clients.
Security:
CTCT
Position:
Buy
The best time to do a house clean in a business is in times of a recession. Managers have 'time on their hands', as business slows, so they look in-house to see where they can reduce costs, hopefully without firing staff. They look to improve relationships with clients by offering better and more acceptable service. This is where companies like Constant Contact become invaluable. Constant Contact champions the needs of small organizations and provides them with an easy and affordable way to build successful, lasting customer relationships. Their leading email marketing and online survey tools--supported by its expert personal coaching and support--help all types of small businesses and organizations create professional-looking email newsletters and insightful online surveys that includes dialogue with customers.

Through Constant Contact, small organizations have access to the latest industry information and education to help them learn email marketing and online survey best practices.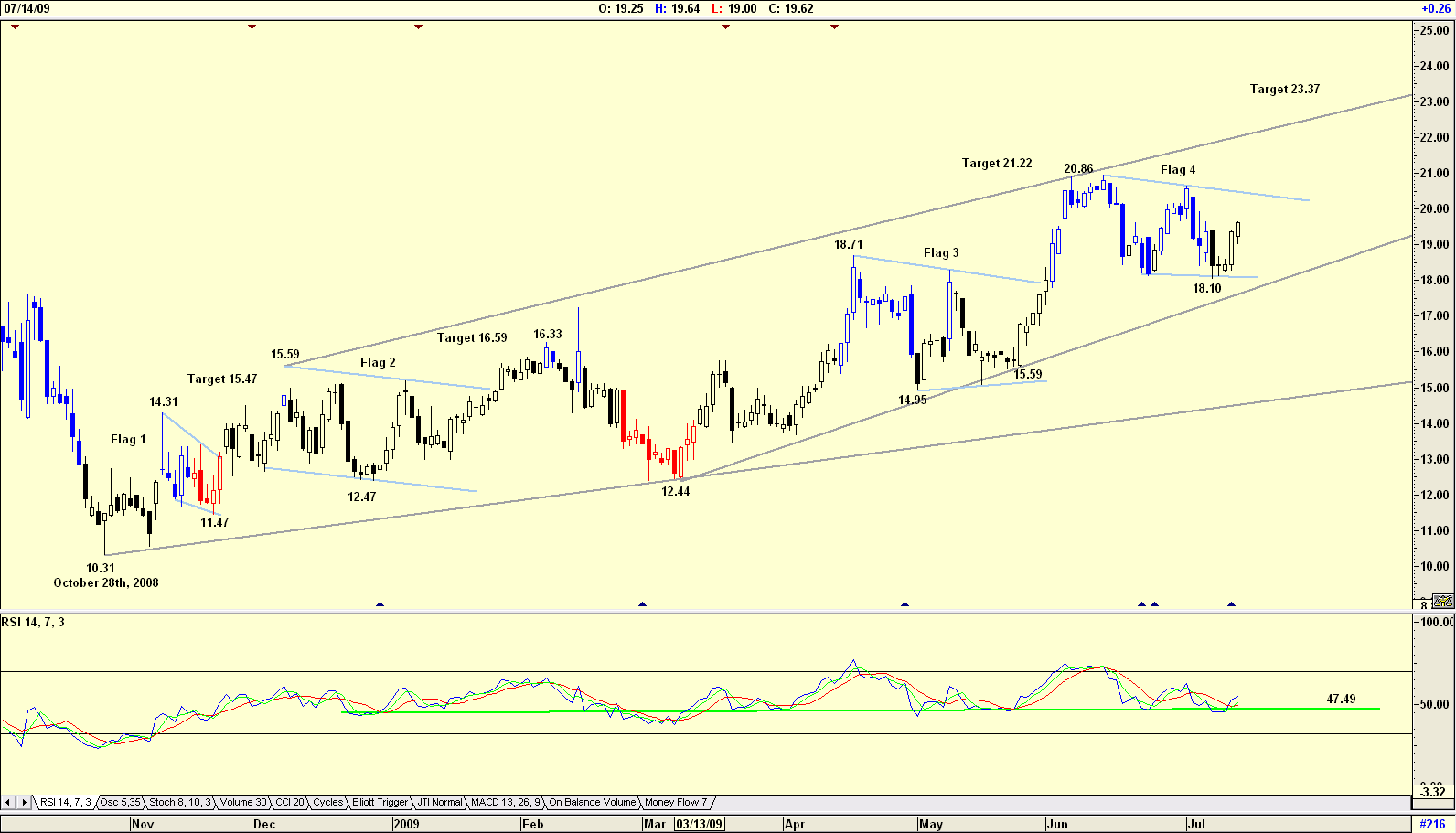 Daily chart of Constant Contact
Graphic provided by: AdvancedGET.
The share started in the market at $18.18 on May 6th 2008 (not shown on the chart) rising to $20.99 by July 11th. From that date, the price has dropped, bottoming at $10.31 on October 28th, 2008. The chart shows how the price then started rising in a falling market in a series of 'flags' that suggested targets that were reasonably accurate.

Flag 1 suggested a target of $15.47. (14.31-10.31=4.00+11.47 = 15.47). The price reached a high of $15.59 before forming Flag 2.
Flag 2 suggested a target of $16.59. (15.59-11.47 = 4.12 + 12.47 = 16.59). The price reached a high of $16.33 before falling back to $12.44.
Flag 3 suggested a target of $21.22 ( 18.71 - 12.44 = 6.27 + 14.95 = 21.22). The price reached a high of $20.86 before turning and forming Flag 4.
Flag 4 is suggesting a target of $23.37 (20.86-15.59 = 5.27 + 18.10 = 23.37). The price as of this writing is $20.64, suggesting a 13.32% return.

The RSI indicator shown on the chart is not yet suggesting a buy signal, as per the normal indicator standards, (buy when the indicator crosses below the 32 horizontal line and then moves above it). Looking at previous buy signals given, only one signal followed the norm. All the others occurred when the indicator fell below the 47.49 level, and then moved above it. You can therefore safely assume that this pattern will be repeated and that a buy signal has been given.

Constant Contact appears to be a company started at the right time... a time when companies are looking for ways to improve customer relations. Their goal, that is, to develop an affordable, easy-to-use email marketing tool to help small businesses build successful, lasting customer relationships is just what companies experiencing the hardship of the present recession needs. With the assistance of Constant Contact, small organizations can communicate with current customers and members easily and affordably, to build loyalty, and generate repeat business. This is definitely a share that can be bought at the present price.


---
Koos van der Merwe
Has been a technical analyst since 1969, and has worked as a futures and options trader with First Financial Futures in Johannesburg, South Africa.
| | |
| --- | --- |
| Address: | 3256 West 24th Ave |
| | Vancouver, BC |
| Phone # for sales: | 6042634214 |
| E-mail address: | petroosp@gmail.com |
---
Click here for more information about our publications!
PRINT THIS ARTICLE