PRINT THIS ARTICLE
AROON
---
USO Consolidating Prior To A Pullback
07/08/09 07:26:27 AM
---
by Donald W. Pendergast, Jr.
---
USO rallied sharply after breaking higher from a bottom reversal pennant formation in mid-February 2009. Is the current price action signaling the start of a corrective phase in crude oil?
Security:
USO
Position:
N/A
Anyone who has traded USO on a regular basis over the past year has likely muttered something like, "I can't believe this thing can keep on falling like this! When is the reversal coming, anyway?" USO fell for seven consecutive months with nary a tradable retracement move along the way, causing the bargain-hunter, bottom-fisher types of the trading world to nearly give in to despair. But all bad things come to an end, eventually, and in February 2009, USO launched higher from a major bottom-reversal pattern that occurred near a major weekly and monthly cycle low.

Apparently, many traders were watching the same pattern develop, given that USO then proceeded to gain 76% in a four-month period. Right now, USO is in either a consolidation pattern (judging from the price action in the Aroon [14] indicator, which suggests a period of sideways chop until either the blue line or red line rises sharply toward the top of the indicator's scale) and/or has already begun a series of proportional retracement moves against the primary daily uptrend.

A daily close below $36.06 will confirm the series of lower highs and lower lows and would suggest that USO is on track to test the first major area of price support (shaded in blue) that resides near $33.00-34.00. A little below that lies an even more important support area, one partly formed by the major long-term uptrend line. If the first support area is taken out (and the series of lower lows and lower highs remains unbroken), expect USO to descend all the way down to test the zone from $31.00-32.00. Even though that's a sizable drop in percentage terms, such a retracement would not violate the symmetry of the existing uptrend and could possibly offer a major buying opportunity for those crude oil bulls that missed out on some or all of the gains made from February to June. See Figure 1.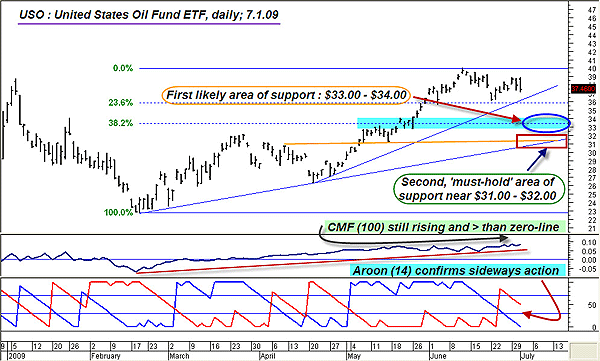 FIGURE 1: USO, DAILY. USO's longer-trend symmetry will still likely be viable, even if prices descend toward the major support zone near $31 to $32.
Graphic provided by: MetaStock.
There is an interesting fact concerning USO; one that makes trading USO more attractive than stocks (in some cases, anyway) is its tax treatment by the tax authorities, which classifies USO as a "section 1256" commodity contract. That's right, USO is not considered to be a stock, but it's given the same special tax treatment as futures contracts. This means there is no wash-sale rule (a big plus for frequent traders in USO) to contend with and that capital gains are taxed 60% at the long-term capital gains rate and 40% at the short-term capital gains rate.




In case you're wondering if the exchange traded fund (ETF) that trades natural gas contracts (UNG) is also afforded the same section 1256 status, the answer is yes. But that's another chart for another day, and, yes, there are some major opportunities shaping up in that market, too.


---
Donald W. Pendergast, Jr.
Donald W. Pendergast is a financial markets consultant who offers specialized services to stock brokers and high net worth individuals who seek a better bottom line for their portfolios.
Title:
Writer, market consultant
Company:
Linear Trading Systems LLC
Jacksonville, FL 32217
Phone # for sales:
904-239-9564
E-mail address:
lineartradingsys@gmail.com

Traders' Resource Links

Linear Trading Systems LLC has not added any product or service information to TRADERS' RESOURCE.
---
Click here for more information about our publications!
Comments
Date:
 07/08/09
Rank:
 5
Comment:
PRINT THIS ARTICLE