As mentioned in a recent Traders.com Advantage article, the broad US markets, while in a very bullish monthly/quarterly price cycle, have not yet had a weekly 38% retracement of the tremendous move up from the March 2009 lows. In addition, all of the major stock indexes (NASDAQ 100, Russell 2000, and Standard & Poor's 500) are still three to six weeks shy of making their next anticipated weekly lows. Given the high odds of a market decline under this technical configuration, not to mention the seasonal pattern (usually weak or trendless from late May until late summer) that favors flat to declining prices, it might just pay to focus on the sector mutual funds that are running dead last in terms of medium- to long-term relative strength. See Figure 1.



FIGURE 1: FIDELITY FUNDS. The five weakest Fidelity Select Sector funds, based on three-, six-, and 12-month relative strength rankings.
Graphic provided by: MetaStock.
Running a simple MetaStock exploration reveals that the Fidelity Select Home Finance (FSVLX) is the weakest of all the 42 Select Sector funds, having managed only a tiny rally over the past 12 weeks. It's still down nearly 50% over the past year, so it might be a good candidate for further declines if the anticipated broad market decline starts to gather steam. Next on the list is Fidelity Utilities (FIUIX), Fidelity Select Utilities Growth (FSUTX), Fidelity Select Transportation (FSRFX), and Fidelity Select Biotechnology (FBIOX). As the exploration output shows, all of these funds are still down over the past 12 months, despite modest gains over the last quarter.

Let's take a closer look at the third weakest fund, Fidelity Select Transportation (FSRFX), which has had a bear rally back up toward an important resistance level. Then we'll examine some of the key stocks from this sector fund, hoping to determine which ones could lead the way lower if the broad markets cooperate and turn lower for the next month or so. See Figure 2.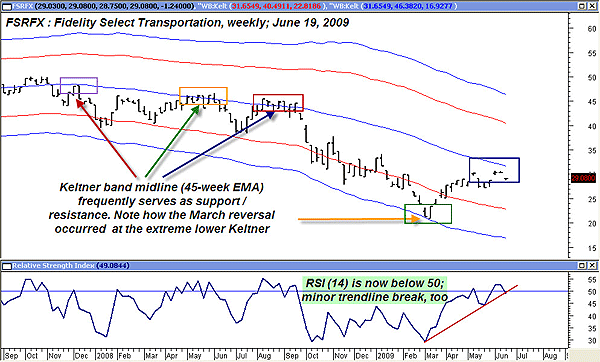 FIGURE 2: FSRFX, WEEKLY. FSRFX may be approaching a critical point. The question is, is that a consolidation pattern forming right now, or is it another cyclical top, with a selloff waiting in the wings?
Graphic provided by: MetaStock.
Fidelity Select Transportation rallied from $20.85 to $30.62 but has now begun to slow down; its relative strength index (RSI) (14) reading has just dropped back below 50 even as the indicator has begun to puncture its uptrend line. Also worthy of note is the Keltner band midline (a 45-week exponential moving average), which has proven to be a significant area of resistance for FSRFX over the past 18 months. This time around, prices have failed to reach the midline, which suggests that either the fund has a little more room to run, or (more likely, given the rapidly rising price of crude oil and its effect on the earnings capability of the stocks contained within this fund) it is about to resume its longer-term bear market trajectory back toward the March 2009 lows.





FIGURE 3: FSRFX, WEAKEST COMPONENT STOCKS. In the eight weakest component stocks from FSRFX, truckers occupy the weakest two slots, while rail carriers are actually outperforming the fund itself.
Graphic provided by: MetaStock.
Figure 3 shows a few of the recent component stock tickers held by FSRFX, ranked according to their weakness versus this fund. Note how the two weakest stocks involve trucking-centric freight companies, whereas the five at the bottom of list are all rail-based freight carriers. Trucking companies always seem to get slammed the hardest during periods of high fuel prices, as most are unable to raise freight rates by enough to ensure the same margin of profitability. Regardless, all eight of the stocks shown could be excellent shorting candidates should the S&P 500 and the rest of the broad market indexes begin to break down. Should that happen, traders focusing on 30 and 60-minute time frames will likely have oodles of short setups to play with and may be less vulnerable to short-covering rallies than their daily-based trading brethren.

Keeping an eye on FSRFX is essential, no matter which time frame you trade, as the price action of this transportation-based sector fund will determine the trading bias of most of these listed stocks.