PRINT THIS ARTICLE
TRIANGLES
---
Nat Gas Triangle May Favor Bulls
06/15/09 09:27:19 AM
---
by Donald W. Pendergast, Jr.
---
Triangles and pennant formations are fairly common, but when they appear as part of a long-term bottoming process, commodity bulls tend to pay attention.
Security:
UNG
Position:
Accumulate
No question about it, the natural gas market really took a dive over the past 11 months, dropping about 80% from peak to trough (July 2008-May 2009). And, unlike its hydrocarbon cousin, crude oil, nat gas has taken a bit longer to bottom out. Recently, however, this energy commodity has begun to trace out the early stages of what could be a significant reversal pattern. A look at the US Natural Gas Fund (UNG) daily chart provides the key technical details (see Figure 1).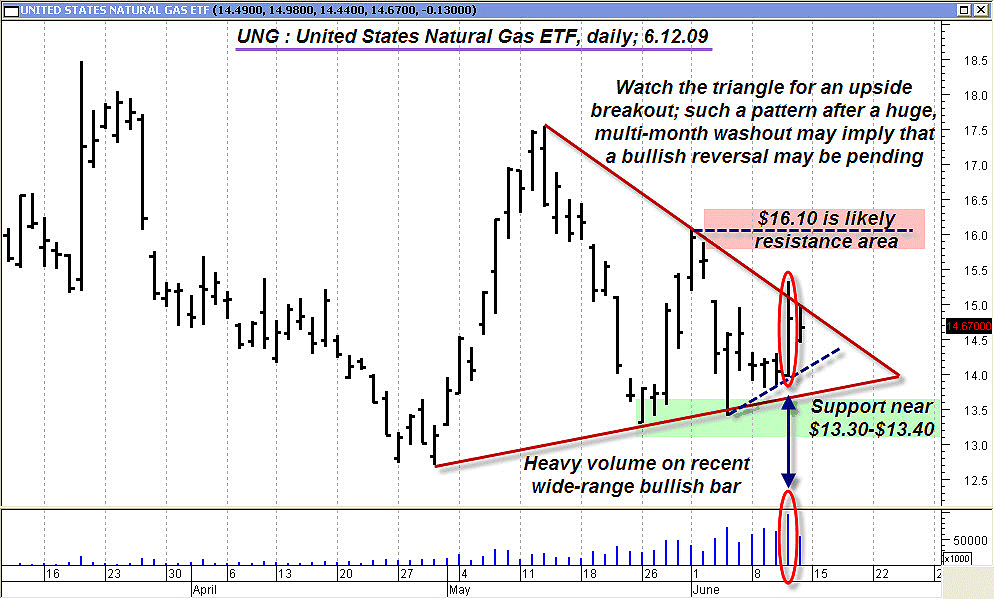 FIGURE 1: UNG, DAILY. Given the fact that this triangle pattern has printed after a very substantial decline, traders may want to keep a close eye on breakout moves -- in either direction. Note the recent bullish wide range bar and the huge volume on that session.
Graphic provided by: MetaStock.
Any commodity that's currently down 75% from its peak value is sure to have a lot of bearish, hard-to-shake sentiment associated with it, but that might just be the prime time to begin examining the charts for the tell-tale clues that may signal a great bottom-fishing opportunity. UNG has some interesting chart dynamics going for it right now, not the least of which is the huge daily pennant formation, one that also features steadily rising trade volumes. Of particular interest is the recent volume spike of June 11, 2009; it's about five times the average daily volume of the past few months, indicating that some very big money may be accumulating natural gas futures contracts (which is essentially what shares of UNG are made up of) in anticipation of a potential move higher. The fact that this triangle pattern (with such a bullish tone, owing to the massive increases in daily volumes) has printed after such a major decline and bottoming process is sure to capture the interest of exchange traded funds (ETF) and futures traders.

Over a one-year time frame, UNG has a correlation of 0.94 (almost perfectly correlated) with USO, the ETF that tracks the price of crude oil, perhaps a concern to traders convinced that crude oil (USO) is due for a corrective move after such a strong rebound. However, viewing the six-month correlation between these two commodity ETFs reveals that UNG and USO have a correlation of only 0.08, making it much safer to consider the prospect of a long entry in UNG without undue concern should USO begin to drift lower.


A very simple, fairly low-risk way to play UNG here is to sell a July covered call (with only 32 days to expiration) for every 100 shares of UNG actually owned. Option implied volatility is very high for UNG, making the sale of options a potentially profitable pastime. The sale of an in-the-money (ITM) July 2009 $14 call option can fetch about $1.55 (about $155, depending on commissions) right now, offering those acquiring UNG some staying power to ride out temporary price declines in the underlying tradable. Since there is good price support near $13.30 to $13.40, the fact that the breakeven point on this trade at expiration is about $13.10 seems to offer covered call traders a decent balance between risk and reward. Such a trade will return a gain of about $85 or so, depending on commissions (the cheaper the better on a trade like this), of course. The annualized return if the stock is called away at July options expiration is about 65%, not a bad return if all goes as planned. The main trade management focus of this trade is the lower red triangle boundary line; if you see a wide-range daily close below it, you may just want to close out the entire trade, especially if the volume is heavy on such a break lower.


---
Donald W. Pendergast, Jr.
Donald W. Pendergast is a financial markets consultant who offers specialized services to stock brokers and high net worth individuals who seek a better bottom line for their portfolios.
Title:
Writer, market consultant
Company:
Linear Trading Systems LLC
Jacksonville, FL 32217
Phone # for sales:
904-239-9564
E-mail address:
lineartradingsys@gmail.com

Traders' Resource Links

Linear Trading Systems LLC has not added any product or service information to TRADERS' RESOURCE.
---
Click here for more information about our publications!
Comments
Date:
 06/15/09
Rank:
 4
Comment:
PRINT THIS ARTICLE