Now that the Standard & Poor's 500 has begun the process of moving higher out of a five-week consolidation pattern, it makes imminent sense for traders to focus their attention on stocks that are also emerging from consolidation patterns. First, we'll examine a list of the stocks offering new ParaSar system buy signals and then focus on the strongest relative strength stock (versus the S&P 500) offering such a long entry signal.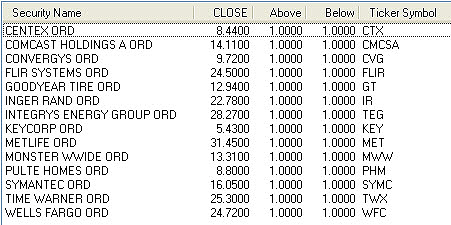 FIGURE 1: S&P 500 STOCKS OFFERING PARASAR BUY SIGNALS. Goodyear Tire and Rubber (GT) has the highest 13-week relative strength versus this index. Many major stock sectors are represented in this particular list, a potentially bullish omen.
Graphic provided by: MetaStock.
Running a basic MetaStock exploration to locate new long ParaSar system entry signals on the component stocks in the S&P 500 resulted in the stocks shown in Figure 1. It's easy to see that stocks from a diverse number of industry groups are represented, making the decision to stay on the long side of the market easier -- stocks from the financial, industrial, technology, consumer staples, consumer cyclical, and energy sectors are all present, assuring ParaSar systems traders that the broad market rally may still have some room to run. Running the list of stocks in a relative strength exploration (versus the S&P 500) also reveals that the top three stocks in terms of a 13-week rate of change versus the big index are Goodyear Tire and Rubber (GT), Wells Fargo (WFC), and MetLife (MET). Since we only want to focus on the strongest stocks when using this innovative system, one revealed to the world by J. Welles Wilder in 1978, we'll focus our attention on the new ParaSar buy signal on Goodyear Tire and Rubber's daily chart.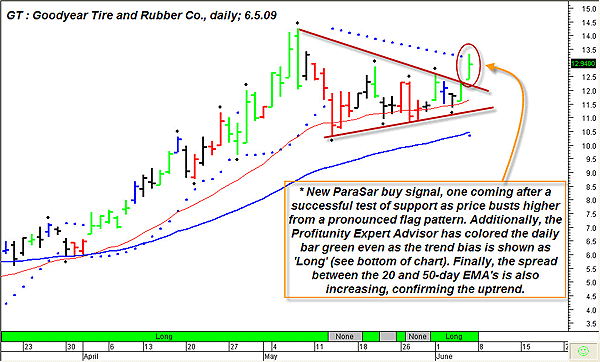 FIGURE 2: GT, DAILY. The combination of a ParaSar buy signal, widening EMA spreads and further bullish confirmations by MetaStock's Profitunity expert advisor all seem to suggest that GT may be destined for another bullish swing.
Graphic provided by: MetaStock.
Graphic provided by: Profitunity - Bill Williams expert advisor.
Here's the Goodyear Tire and Rubber (GT) daily chart (Figure 2), a name that most traders and investors are likely familiar with. The chart features the ParaSar system overlay (blue dots), a 20-day (red line), and 50-day (blue line) exponential moving average (EMA) and one of MetaStock's most unique expert advisors, the Bill Williams Profitunity advisor. While pure system traders likely won't use external confirmation factors apart from the basic ParaSar buy signal (issued at the close on Friday, June 5, 2009), less adventurous traders will likely be emboldened by the series of green Profitunity daily price bars and the breakout from the pennant or flag pattern. Even better, the same Profitunity expert advisor has also confirmed the upward trend momentum bias; see the green long identifier near the bottom of the chart. Overall, this appears to be a fairly low-risk long entry setup, one confirmed by a variety of technical measures. The next issue is how to play this breakout move in GT, hoping to net some profits from this anticipated bullish move.


The easiest and most straightforward way to participate in this GT buy setup is to buy at the next session's open (Monday, June 8, 2009), setting the initial stop at $10.38, as specified by the ParaSar system. If you risk 2% of a $25,000 account on this trade, you'd be able to buy about 195 shares of GT, assuming a fill at $12.94 or so. If you're more risk-averse, buying 100 shares would keep your account risk for this trade near 1%. As the ParaSar dots appear at the close of each new session, the stop-loss (automatically calculated by the lower series of ParaSar dots) will automatically keep moving higher until the trade is either closed out for a loss or a gain. You simply adjust your stop-loss price in your trading platform at the end of each session, letting the trade run without any further involvement by the trader.

Traders interested in selling a covered call can do so, but be aware that the implied volatility (IV) for GT's call options are trading at a level somewhere between the average and highest values of the past two years. In other words, it's not the best time nor is it the worst time to sell a covered call against this particular stock. July 2009 $12.50 calls are going for about $1.60 (as of June 5, 2009), allowing an annualized return of nearly 80% should the stock be called away $12.50 at July 2009 expiration, 39 days from now. Trade management is similar to the pure stock version of this ParaSar trade -- close it out when GT closes below the lower series of ParaSar dots. The main disadvantage of the covered call trade is that your maximum profit potential is limited, while the potential gain in the pure stock trade has a higher potential for gain, especially if a major tend move develops. For an example of this, the last major uptrend that ParaSar latched onto saw GT rocket from the $7.00 area (April 2009) all the way up to the $14.00 area (May 2009), before being stopped out near $11. ParaSar would have gotten you in and kept you in for the majority of that recent trend move. J. Welles Wilder's ParaSar system is a very sound, very good trading system, one that can more than hold its own in today's frantic market scene.