While there are few direct correlations between different tradables with which I feel entirely comfortable, the intermediate term moves of both light crude and heating oil have caught my eye. Both tradables are in the late stages of intermediate head and shoulders bottoms. But where crude oil has yet to break out, heating oil has already experienced both a break out and a pull back. The question here is whether or not the intermediate head and shoulders bottom in light crude will be resolved in a fashion similar to the intermediate head and shoulders bottom in heating oil.


Both light crude and heating oil began descending in June, as part of the correction from the April Rally, a tide that truly semed to lift all boats. Intermediate bottoms were reached by both crude and heating oil in mid-June (the left shoulder), early July (the head), and mid-August (the right shoulder). In the case of heating oil, prices broke out strongly near the end of August, then spent two days retracing the breakout, taking prices back beneath the neckline at 7625. The 7625 level, incidentally, remains key, as does the 7525 level which marks both where the break out began and where the pull back, as of August 30, had ended.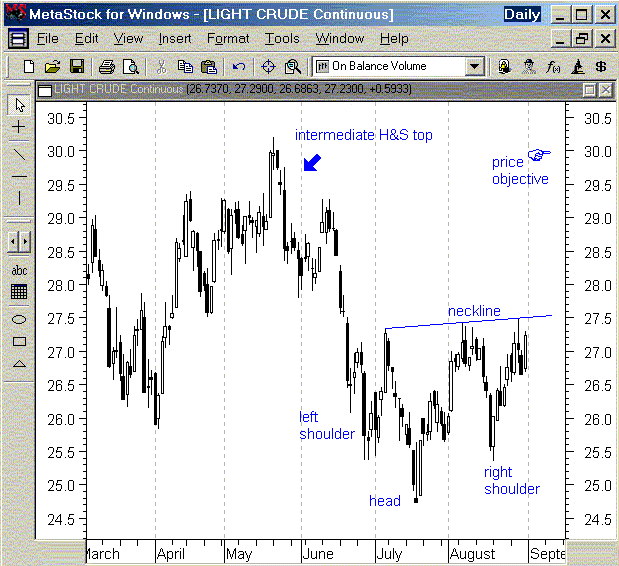 An intermediate H&S bottom following an intermediate H&S top could send crude prices back to year-to-date highs.
Graphic provided by: MetaStock.
In the case of crude, however, there has been no breakout as yet. Intraday tests of the neckline at 27.6 have been frequent throughout August, but the neckline has yet to be vigorously challenged (i.e., a successful close above 27.6). It is worthwhile to note both that heating oil's otherwise similar, intermediate H&S bottom experienced a pull back during its breakout, as well as the fact that crude has not vigorously tested its neckline. These two factors would suggest caution during any upside breakout in crude--insofar as both factors point to some potential weakness in the event that crude prices try to make an advance.


Interestingly, the present intermediate H&S bottom in light crude mirrors an intermediate H&S top from the spring. Specifically, the spring intermediate H&S top runs from April (left shoulder), peaks in May (head), and completes in June (right shoulder). It was the downside breakout from 28.3 to 25.5 by late June that provided the context for the current intermediate head and shoulders bottom.


Should the intermediate head and shoulders bottom in light crude result in an upside breakout, resistance to an upside move would not begin until prices reached 28, just above the breakout neckline from the previous intermediate head and shoulders top. However, the size of the current formation is such that an upside price target of as much as 30 is not unreasonable. Reaching such a target would represent a minimum, post-breakout gain of approximately 10%.