While a full writeup regarding the advantages (many) and disadvantages (few) of J. Welles Wilder's innovative ParaSar (short for parabolic stop and reverse) trading system is beyond the scope of this article, we can examine some of its major components and then attempt to add a few modifications to make it a little more responsive and hopefully more profitable.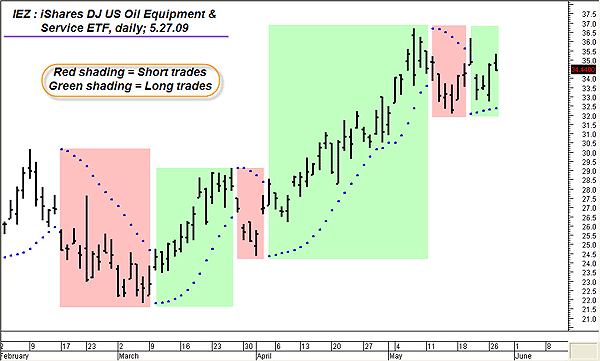 FIGURE 1: IEZ, WITH PARASAR. J. Welles Wilder's parabolic stop and reverse system has managed to perform well on this exchange traded fund (ETF) since the beginning of 2009.
Graphic provided by: MetaStock.
ParaSar is perhaps the ultimate in trading system "de-evolution." It's the epitome of simplicity, rivaling the "on-off" and "yes-no" robotic mindset of 1950s-era transistors and 1960s-era integrated circuits (which were the forerunners of today's ultra-fast microprocessors). And, as is often found to be the case, simpler is usually better, especially when attempting to trade real money in the financial markets. Look at Figure 1; you can see that the ParaSar system, in its standard format, is always in a trade -- long or short. The scary thing is, this simple trend-following system tends to make money (over the long term) in a variety of stocks and commodities, despite having a relatively low winning percentage.

On the IEZ daily chart, long trades are highlighted in green, while short trades are marked off in red. The ParaSar system has worked very well in IEZ since the beginning of 2009, capitalizing on the rebound in oil prices and the oil service and equipment stocks related to crude oil. Does this mean we've just located the be-all and end-all of stock trading systems? By no means. However, with a little tinkering, you can help improve the performance of the ParaSar system on a range of tradables by using a basic filter designed to help keep your trade entries on the most favorable side of the markets you follow.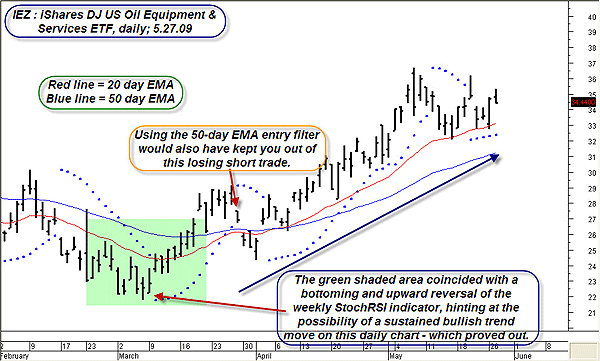 FIGURE 2: IEZ, DAILY. Using a simple pair of daily exponential moving averages and a weekly cyclical indicator can also help you extract even more profits from the ParaSar system. Backtesting can help you decide how to best fine-tune the system to your requirements.
Graphic provided by: MetaStock.
Figure 2 is the same chart, this time without the red and green trade identification markings. Added, however, is a pair of 20- and 50-day exponential moving averages (EMAs), simple trend bias filters that can help better time ParaSar entries that are in sync with the dominant short- and medium-term trends on a daily chart. Here's a simple rule to follow if you decide to screen your ParaSar entries:

o Only take long trade entries when the stock's price is above its 50-day EMA.
o Only take short entries when the stock's price is below its 50-day EMA.

In backtesting, the addition of these simple entry filters generally helps increase the winning percentage on most stocks and commodities, despite some exceptions. Drawdowns are normally reduced as well, and, of course, the lower number of trade entries also reduces commission costs, a major factor -- especially if you don't use a deep-discount online broker.

More adventurous traders, those skilled in identifying higher time frame price cycles (using, for example, the stochRSI indicator on a weekly chart to determine the trend bias of a given stock on its daily chart), can also make use of the spread between the 20- and 50-day EMAs on the daily chart to take long ParaSar entries that aren't on the correct side of their respective 50-day EMAs. For example, when the stochRSI has bottomed and begun to accelerate higher on the weekly chart even as the spread between the 20- and 50-day EMAs on the daily chart has begun to narrow (with the 20-day EMA curling upward toward the 50-day EMA), a long ParaSar entry can be taken with added confidence.



One of the real beauties of the ParaSar method is the hands-off trade management process. Once you've entered the trade (with an appropriately sized share size to limit risk), simply set a trailing stop-loss, using the ParaSar dots to provide the actual price levels. Then simply adjust your stop-loss with your broker each day as the new ParaSar dots are updated on your chart. It just doesn't get any easier, and it is a very stress-free way to trade.

If you do decide to use the ParaSar system (available in many charting platforms, such as MetaStock), be sure and backtest it on a variety of stocks to prove to yourself that it does indeed make money most of the time, in every type of market environment. Once you're satisfied with your backtested results, then only trade the stocks from the strongest sectors for long entries and those from the weakest sectors for your short entries.

You'll be fairly impressed at how well such a simple system can perform if you do all of the above. Give it a try and see what you think -- this system has been around since at least 1978 and is likely to be producing profits for a long time to come, no matter what other kinds of systems may come down the pike.