PRINT THIS ARTICLE
ECON CYCLE TRADING
---
Consumer Confidence, Recessions, And Stocks
05/27/09 10:28:29 AM
---
by Mike Carr, CMT
---
Economic indicators can provide valuable clues about the future direction of the stock market.
Security:
N/A
Position:
N/A
The stock market is said to measure the hopes and fears of the investing public. Bull markets are built on hope, while investor fears drive prices lower in bear markets. Consumer confidence is an economic indicator that measures the same idea in a different format, simply by asking investors how they feel about the current and future state of the economy.


Recent research has shown that in a recession, consumer confidence bottoms before the stock market (Figure 1). On average, the stock market has bottomed two to three months before confidence bottoms.



FIGURE 1: S&P 500, CONSUMER CONFIDENCE. The S&P 500 usually anticipates an increase of consumer confidence.
Graphic provided by: www.ritholtz.com/blog/.
We can also see from Federal Reserve data that consumer confidence surges sharply higher near the end of previous recessions (Figure 2). Since consumer spending accounts for nearly 70% of the economy, this should not be unexpected.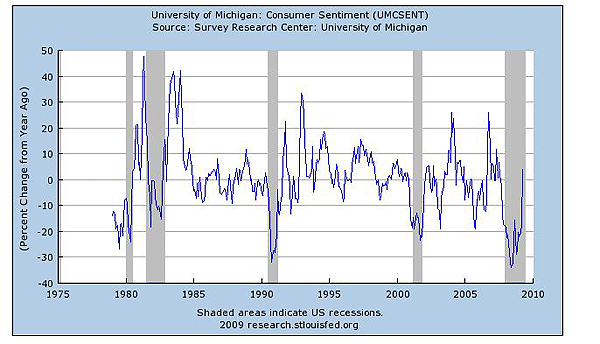 FIGURE 2: US RECESSIONS. Shaded areas show periods of recession. Historically, we can see that consumer confidence has moved sharply higher near the end of the recession.
Graphic provided by: Federal Reserve Board.
The current bottom in consumer sentiment was reached in October 2008, five months before the March 2009 stock market bottom. While this differs from the historical pattern, it is a positive for the stock market that confidence seems to have bottomed. The unexpected surge in sentiment in May 2009 could be signaling better economic times ahead. Given past history, the market bottom may be in, unless we experience more economic turbulence.


---
Mike Carr, CMT
Mike Carr, CMT, is a member of the Market Technicians Association, and editor of the MTA's newsletter, Technically Speaking. He is also the author of "Smarter Investing in Any Economy: The Definitive Guide to Relative Strength Investing," and "Conquering the Divide: How to Use Economic Indicators to Catch Stock Market Trends."
---
Click here for more information about our publications!
PRINT THIS ARTICLE