PRINT THIS ARTICLE
SUPPORT & RESISTANCE
---
Support and Resistance on QCOM
08/30/01 03:34:42 PM
---
by Dennis D. Peterson
---
Ready to move up or just sideways?
Security:
QCOM
Position:
N/A
Despite some recent revenue problems Qualcom, Inc. (QCOM: Nasdaq) manages to shrug off some market declines. While the Nasdaq composite has lost 50% over the last year QCOM is about where it started from a year ago. Looking at the chart of QCOM (Figure 1) recent volume history says the market is making up its mind on where price should go, but price does fit some events that occurred in the recent past.


QCOM had a steep sell-off in late February marked by a large volume spike that said the market had gone too far, and everyone was selling out of panic. As the market attempted to correct in March and April the first sign of resistance showed up on March 6 and April 19 at a price of $66.5/share. A mid-May move down on decreasing volume got to a level the market considered a bargain and again price went back up. But the break through resistance at $66.5 was on decreasing volume. Time to retrace again.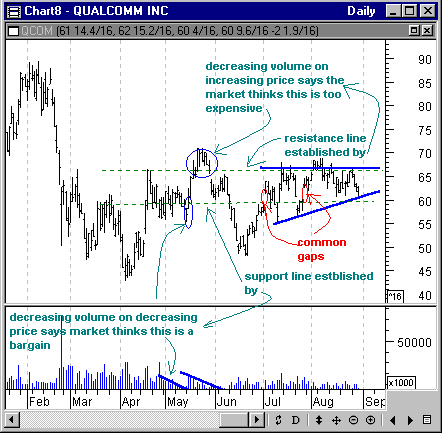 Figure 1: QCOM Daily Price and Volume History. Price moves in mid and late May have established resistance and support that are currently holding.
Graphic provided by: MetaStock.
Graphic provided by: Data vendor: eSignal<.
It's no accident that common gaps, at the beginning and end of July, occur at around $59.5/share as this marks the same support level the market showed in it's mid-May push down to what the market considered a bargain.
While the technology market continues to decline, a stock that manages to hold its head above water is a candidate for strong moves in the future. Recent volume levels show the market is comfortable with a price range of $59.5 to $66.5. An ascending triangle (Figure 1: heavy blue lines) is developing, but I would be more comfortable if I saw some increasing volume on the upside moves to show some enthusiasm for accumulating the stock. Accumulation/Distribution for the last few weeks is about flat. I would think the ascending triangle is not a strong one, that is, not likely to result in an upside breakout, at least not in the near term. More likely is that QCOM will move sideways, which for support and resistance traders is not that bad of a deal.


---
Dennis D. Peterson
Market index trading on a daily basis.
---
Click here for more information about our publications!
Comments
PRINT THIS ARTICLE