PRINT THIS ARTICLE
BREAKOUTS
---
Syntroleum Setting Up For Bullish Breakout
04/29/09 09:17:46 AM
---
by Donald W. Pendergast, Jr.
---
Sometimes it pays to keep tabs on lower-priced stocks in volatile industry groups. One such stock with a history of successful breakout/trend moves may be offering traders yet another chance to profit.
Security:
SYNM
Position:
Buy
Tulsa, OK–based Syntroleum's (SYNM) primary business is focused on the conversion of natural gas into liquid hydrocarbons. Two of their more interesting product lines are synthetic diesel and jet fuels. The company's stock has had a wild ride since the NASDAQ self-destructed in early 2000, falling from the low $20s all the way down to penny-stock status in recent years. Nevertheless, the stock still sports a forward price/earnings ratio of 9.1 and has an average broker price target of about $2.50 per share. Even better, SYNM has a history of flat-base breakouts followed by periods of consolidation and continuation moves. One such continuation move may be setting up right now, so let's have a look.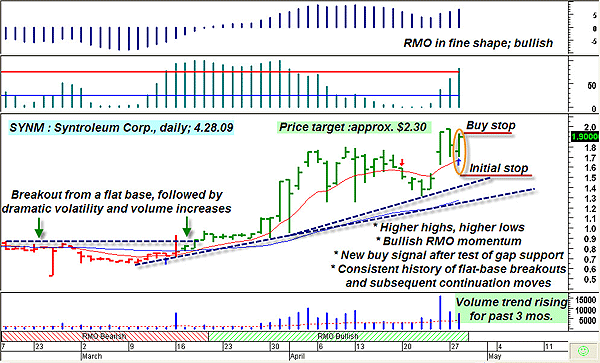 FIGURE 1: SYNM, DAILY. Given the impressive track record of RMO swing buy signals, the fact that one is now firing at the leading edge of such a bullish technical framework should be enough to increase the pulse rate of almost any trader.
Graphic provided by: MetaStock.
Graphic provided by: Rahul Mohindar oscillator (RMO) from MetaStock v 1.
SYNM's daily graph (Figure 1) is very basic, but it contains virtually all of the technical details needed to arrive at an informed trading decision. First off, the trend is up, as is demonstrated by the series of higher highs and higher lows. The most recent trendline has also begun to accelerate at a higher angle of attack, another bullish omen. The Rahul Mohindar oscillator (RMO indicator at top of chart) is above its zero line and rising, assuring prospective long positions that the current momentum is strong. Money flow (not shown) is also exceptional and is yet another confirmation that higher prices could be a possibility. On the left side of the chart is the most recent breakout from a relatively flat base, one that ushered in a dramatic increase in both volume and volatility in this stock. SYNM has a history of flat-base breakouts like this one, and most were followed by sizable gains. The main question now is this: "Does this stock offer a fairly low-risk long entry opportunity right now — or not?"


Given all of the solid technical evidence previously mentioned, and the fact that SYNM has above-average relative strength versus the broad market, it's not hard to envision this current chart configuration as offering a low-risk long-buy entry here, especially since the RMO swing buy module has just fired a long entry signal.

The first overhead chart resistance is at $2.26, followed by another old swing high near $2.44. If we place an initial stop at the bottom of the unfilled daily gap (three bars ago) near $1.54, this trade setup still offers a reasonably good risk-reward ratio. While some traders may wish to wait for an intraday pullback to get a better entry price, most traders would probably be better off going long with their entire position on a buy-stop near $1.94. If $2.26 is approached, consider taking half the position off to lock in some profits and bring the stop up to breakeven. If price keeps heading north, trail with a three-bar trailing stop of the lows, being sure to ratchet that down to a two-bar trail if $2.44 is approached. The positioning of the current consolidation also suggests a potential price target for a successful breakout at $2.30–2.35, so taking some profits off near $2.26 certainly makes a lot of sense.


SYNM is a relatively low-volume stock, so traders attempting to play this move should use limit orders instead of market orders, especially on the entry. This might help avoid serious, profit-killing slippage issues, issues that frequently occur when trading such low-priced stocks. That's a fairly minor problem, especially when cast against the impressive backdrop of the powerful breakout/trend moves that this particular stock is capable of.


---
Donald W. Pendergast, Jr.
Donald W. Pendergast is a financial markets consultant who offers specialized services to stock brokers and high net worth individuals who seek a better bottom line for their portfolios.
Title:
Writer, market consultant
Company:
Linear Trading Systems LLC
Jacksonville, FL 32217
Phone # for sales:
904-239-9564
E-mail address:
lineartradingsys@gmail.com

Traders' Resource Links

Linear Trading Systems LLC has not added any product or service information to TRADERS' RESOURCE.
---
Click here for more information about our publications!
Comments
Date:
 04/29/09
Rank:
 4
Comment:
PRINT THIS ARTICLE