Talk about an offer you can't refuse -- when PepsiCo offered a combined total of $6 billion to Pepsi Bottling Group (PBG) and PepsiAmericas (PAS) to acquire the balance of the shares in each bottler that it doesn't already own, the market responded by sending shares of PBG higher by 22% today, with PAS shares rising nearly as much as PBG's. Some analysts even believe that PepsiCo will need to raise its bid by another 10%, which, if that occurs, will be even more favorable for current shareholders, since that would equate a closed-deal price of approximately $32.50 per share. That's nearly $2.00 a share above today's close, and many traders will be watching PBG to see how it reacts to further news relating to this $6 billion acquisition attempt.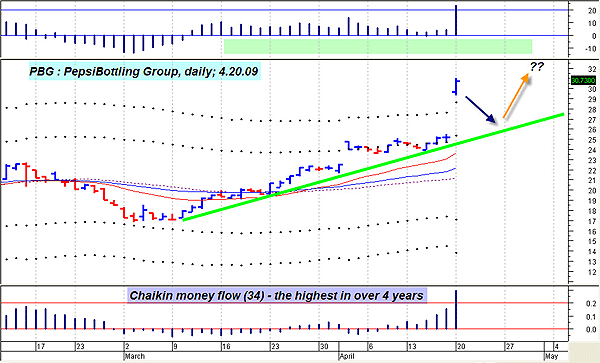 FIGURE 1: PBG, DAILY. After residing within the confines of its Keltner band complex for nearly seven years, PBG finally staged a convincing breakout, one precipitated by news of PepsiCo's $6 billion acquisition deal.
Graphic provided by: MetaStock.
Graphic provided by: WD EOD Detrend from Profit Trader for MetaStock.
PBG's daily chart (Figure 1) has one overarching aspect, one that offers a unique take on the strength of PBG shares. The chart is overlaid with Keltner channels, based on an x number of standard deviations surrounding a 45-period moving average.

With the confirmed upside breakout of the upper Keltner band, PBG shares finally accomplished a feat that they had been unable to replicate for nearly seven years -- to manage a daily close above that upper Keltner band. Clearly, investors are very excited about the prospect of even more price appreciation for PBG stock as the details of this major deal are fine-tuned in the weeks to come.

The Chaikin money flow indicator's trend is also supportive of the new $30 + valuations for PBG, rising to a level not seen since late 2004. The detrend oscillator (top of the chart) is in the stratosphere, so to speak, but in a powerful upthrust like this, it cannot be relied on to provide the same kind of accuracy that it normally does in its more useful pullback against the trend mode. Sure, it's very high, but there is no reason why it can't go higher, given that PBG has just made a fresh six-month high.


Here's an idea on how you might play PBG. Being ever watchful of the daily news regarding this acquisition deal, swing traders might want to watch for a possible retracement move, one down toward the major uptrend line (green line) should PBG shares be driven temporarily lower in an attempt to close the open gap preceding this new high.

On a confirmed reversal, followed by a successful trendline and/or gap support test, enter a long position using your favorite momentum indicator on a 30- to 60-minute or even a daily chart, attempting to catch a move back up toward the current price range (or even higher). Use the green trendline as an initial stop and then consider scaling out of half the trade when a decent profit can be obtained, bringing the stop up to breakeven. Trail the rest with a two- or three-bar trailing stop of the lows and consider selling out if price gets close to any projected deal's valuation per share levels, especially if it's near $32.00-32.50.

Alternatively, those who play with option spreads might consider selling a June 25/22.5 bull put spread on a pullback, but only if a minimum of 0.70 in credits can be obtained. Again, that green uptrend line should act as the line in the sand, alerting traders to bail out of any long positions should the daily price close below that key technical barrier.


Can PBG shares jump even higher? Perhaps, depending on how news of this potential deal is received by traders and investors. However, in many cases like this, soon after the initial euphoria over the sudden windfall, paper profits begin to evaporate, traders and investors will begin to dump shares, fearing the loss of that sudden gain. Then, if the news surrounding the deal remains positive, the market will begin to bid the price of the shares higher again.

Check out (elsewhere) a chart of Sun Microsystems (JAVA), a stock I covered here at TradersAdvantage.com about a month ago. It featured many of the same chart technicals as PBG, and traders who waited for various pullbacks in JAVA were rewarded with a couple of potentially profitable long setups. It could be well worth your time to compare the two charts and see if waiting for a pullback in PBG might not be a bad idea after all.