PRINT THIS ARTICLE
STRATEGIES
---
After Six Up Weeks In A Row ...
04/20/09 09:33:22 AM
---
by Mike Carr, CMT
---
The broad market has been up six weeks in a row. We look at what happens after a run like that and discover it's bearish and bullish.
Security:
$XVG, RSP
Position:
N/A
Looking at the Value Line Index, stocks closed with their sixth consecutive week of gains. The Standard & Poor's 500 only shows five weeks of gains, but the Value Line provides a better measure of what the average stock is doing because it is a very broad, equal-weighted index. Figure 1 shows the relative strength of the S&P 500 against its equal-weighted counterpart, measured by the RSP, an exchange traded fund (ETF) that tracks the equal-weighted index. When RSP is doing better, the average stock is outperforming the S&P 500.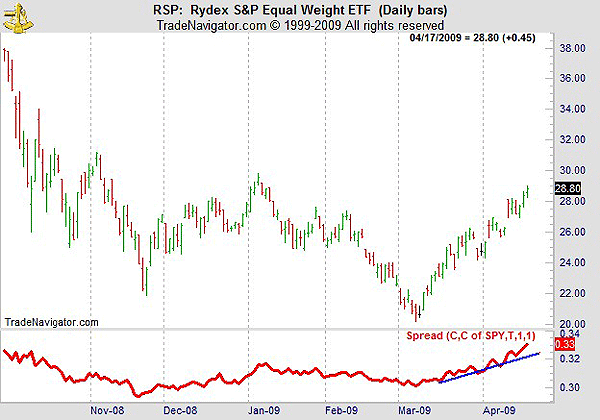 FIGURE 1: RSP, DAILY. From this chart, we can see that the relative strength of the equal-weighted index is greater than the S&P 500, indicating that small-cap stocks are outpacing large-cap stocks.
Graphic provided by: Trade Navigator.
The Value Line has closed up six straight weeks 15 times since 1993, an average of almost once a year. It has been up seven consecutive weeks on six occasions. The longest streak is 10 weeks. So this recent behavior is unusual, but certainly not unprecedented.


After being up six weeks in a row, the chance that the index will close higher one week later is 40%, less than average. Two weeks later, the average closed higher 54.5% of the time, about average. Three weeks later, the odds of an up close were only 36.4%, indicating that a pullback is likely from current levels. However, a month later, the market was higher 70% of the time.


These odds offer insight into what to expect in the coming weeks. They may help traders assess whether we are in a bear market rally or have begun a new bull market. If it's a new bull, we should be higher four weeks from now.


---
Mike Carr, CMT
Mike Carr, CMT, is a member of the Market Technicians Association, and editor of the MTA's newsletter, Technically Speaking. He is also the author of "Smarter Investing in Any Economy: The Definitive Guide to Relative Strength Investing," and "Conquering the Divide: How to Use Economic Indicators to Catch Stock Market Trends."
---
Click here for more information about our publications!
Comments
Date:
 04/20/09
Rank:
 1
Comment:
PRINT THIS ARTICLE