After a considerable period, the global financial markets are undergoing a strong bullish rally. This rally could be seen as a bear market rally, as the long-term downtrend has not reversed. The S&P Retail Index ($RLX) made an all-time low at 207 in November 2008, and a higher low at 223 in March 2009. Figure 1 shows the 300 levels as the second strongest resistance after the 200-day moving average (MA).

The red trendline in Figure 1 reflects the previous high resistance at the 300 levels. During the price movements in these levels, the full stochastic (14,3,3) turned overbought many times but failed to sustain its bullishness. The average directional movement index (ADX) (14), indicating a downtrend, turned weaker as the price moved in a wider range of 223 and 300. The positive directional index (+DI) and negative directional index (-DI) were tangled, suggesting equal buying and selling pressure on the rally.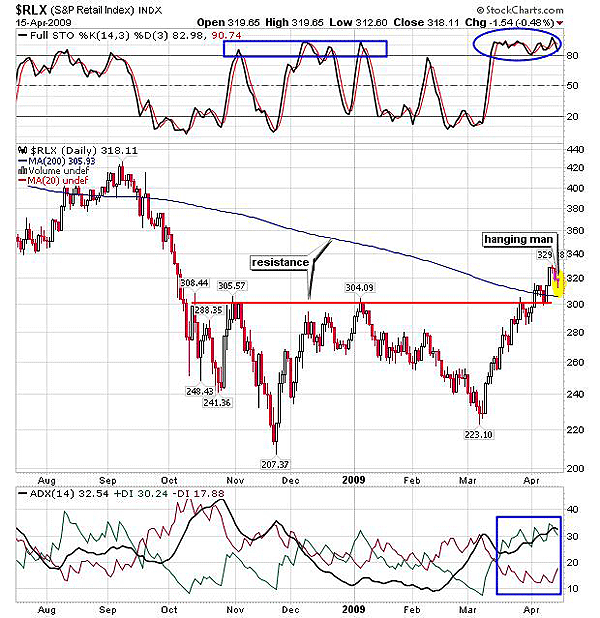 FIGURE 1: $RLX, DAILY. The hanging man reversal candlestick pattern may retrace the index back to the previous support. But the developed uptrend and the overbought stochastic would sustain the rally.
Graphic provided by: StockCharts.com.
The bullish rally that began from the 223 levels gradually violated both resistances in Figure 1. This rally reversed the downtrend and the stochastic oscillator surged in an overbought zone. On the daily chart in Figure 1, we can see that the stochastic indicator moved horizontally during the rally, indicating positive momentum. Currently, $RLX has transformed the 50-day MA resistance to support. The hanging man candlestick pattern formed on April 15 suggests the possibility of the new support being challenged. The ADX (14) is indicating a developing uptrend, and the stochastic (14,3,3) is stable in overbought territory. Therefore, the index is likely to hold its bullish support of the 50-day MA, and later begin a fresh journey north.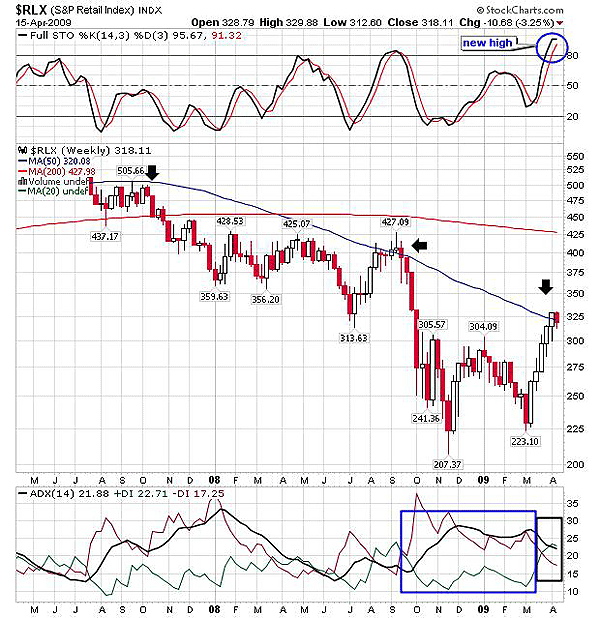 FIGURE 2: $RLX, WEEKLY. The ADX (14) is showing the developing uptrend.
Graphic provided by: StockCharts.com.
$RLX has plunged under the 50-day MA resistance (see arrows in Figure 2). Due to the MA resistance, the index has formed lower highs. The existing bullish rally from the 223 levels has hit the same resistance, so $RLX is at a very critical support-resistance area. Currently, the stochastic (14,3,3) has formed a new high, indicating positive divergence. The rally is likely to reverse the existing intermediate downtrend. The ADX (14) has moved above the 20 area, suggesting a developing uptrend. Considering the signals from the indicators, $RLX is likely to establish support at the 50-day MA.


Hence, the fresh uptrend would sustain and even carry the index gradually to previous highs. Traders can trigger a buy bet on the individual stocks forming the retail index once $RLX initiates a bullish rally from the support levels.