PRINT THIS ARTICLE
MOMENTUM
---
Kohl's Makes A New Six-Month High
04/02/09 09:19:40 AM
---
by Donald W. Pendergast, Jr.
---
Kohl's shares have just made a new six-month high. Can traders and investors move this retailer's common stock even higher?
Security:
KSS
Position:
Buy
From the high made in April 2007 to the low in November 2008, Kohl's (KSS) shares have covered a lot of ground on the road from $80 down to $25 — most of it straight down. After making the low, prices rose a bit, tracing out an extended three and a half month-long trading range spanning the $32–40 area. Presumably, that was the stage during which the smart money traders were busy building positions, in effect paving the way for the recent thrust higher. Does KSS still have enough suds to continue up, or is this retailing stock due for a selloff?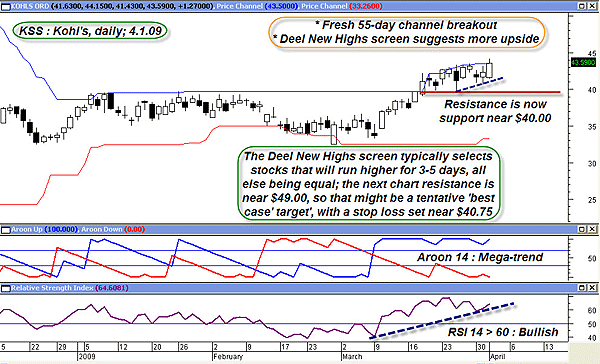 FIGURE 1: KSS, DAILY. A powerful trend in motion should be given every benefit of the doubt; there may still be several ways for savvy traders to play this extended run in KSS, given that the Deel New Highs screen tends to find stocks able to move higher for three to five additional sessions.
Graphic provided by: MetaStock.
MetaStock features many different explorations; the one used to find this trade setup in KSS was unearthed using the Deel New Highs screen. It tends to locate stocks making six-month highs with very strong trend and momentum characteristics that still have enough velocity to carry higher for another three to five sessions, all else being equal.

The trend strength is undeniable, at least according to the Aroon (14) indicator, which is confirming that KSS is in the midst of a major trending move right now. Confirming this is the general upward trend of the relative strength index (RSI)(14) and the reading of 64+ on the indicator itself.

The fact that KSS has also completed a series of sequential 55-day channel breakouts is yet another confirmation that the likely direction for KSS may be higher for the next few sessions, if not more. An interesting feature of this chart is the actual 55-day channel breakout line itself; once prices tore above the line (at $39.75), the line transformed itself from a resistance barrier into a support shelf (red horizontal line), one that had already been tested twice before prices reversed higher.


There may be several ways to play an attempt by KSS to move higher; one way might be to purchase a couple of at-the-money call options with at least three to six weeks of time value. On a continuation higher, take a quick profit on one call and then let the other one run if the trend keeps going, being sure to close the trade at the first hint of a significant reversal. Using the $40.75 level as a bailout stop might also be a good idea, just in case the trade setup disintegrates.

Another option-based play would be to sell a bull put spread; an April 41/39 put credit spread could be sold for about 0.40 as of today's close. If KSS stays above $41 for the next 15 days, the entire spread expires worthless, allowing the seller to keep the $40 in credits. Just as the long call trade suggested previously, the stop-loss for the spread should be set near $41. If the spread loses 75% of its value, able to be bought back for 0.10 on a quick move higher, sellers should take advantage of that move and cover or close their positions to avoid the possibility of getting whipsawed for a loss.

Finally, traders who prefer to deal in stocks could attempt to buy half their long position on an intraday pullback toward $42, placing an initial stop near $40.75. On a rise back above $43.60 they could buy the second half of their position, holding on for as long as the trend stays in motion. Using a two-bar trailing stop of the lows as the price moves higher would also be a wise strategy, too.


Although it's true that KSS has already moved about $11 since making its last significant low (February 27, 2009), there is no reason why a stock with such powerful momentum can't go even higher, especially since it's already had a brief pause (the nine sessions prior to today's breakout bar) to catch its breath, so to speak. Trends persist, and the trend in Kohl's should be played according to what you see and not according to what you believe.


---
Donald W. Pendergast, Jr.
Donald W. Pendergast is a financial markets consultant who offers specialized services to stock brokers and high net worth individuals who seek a better bottom line for their portfolios.
Title:
Writer, market consultant
Company:
Linear Trading Systems LLC
Jacksonville, FL 32217
Phone # for sales:
904-239-9564
E-mail address:
lineartradingsys@gmail.com

Traders' Resource Links

Linear Trading Systems LLC has not added any product or service information to TRADERS' RESOURCE.
---
Click here for more information about our publications!
Comments
Date:
 04/07/09
Rank:
 2
Comment:
PRINT THIS ARTICLE