Love it or hate it, gold is the focus of many traders and investors these days. And nowhere else can you get the most bang for your gold trading bucks than by latching onto a basket of gold mining stocks that have caught a fresh bid. Right now, the Fidelity Select Gold (FSAGX) fund has the highest long-term (six- and 12-month) relative strength of all 42 Fidelity sector funds. Here, we'll examine the technicals of this fund and also see how the rest of the Fidelity sector fund complex compares to FSAGX.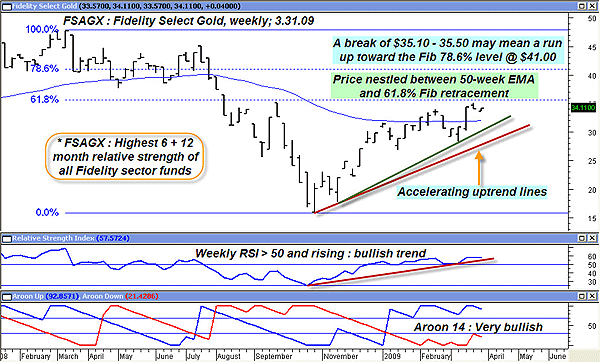 FIGURE 1: FSAGX, WEEKLY. When a trend is manifesting such powerful momentum, sector fund traders will attempt to exploit the tendency of such trends.
Graphic provided by: MetaStock.
FSAGX's weekly chart (Figure 1) is a perfect visual depiction of the old trader's saw about not getting in the way of a trend in motion, at least not until it gives clear indication of exhaustion. Right now, all trend-intensity related indicators seem to confirm that the upward momentum in this gold-mining equity fund is maintaining a full measure of robust strength.

The Aroon (14) indicator depicts a very strong uptrend; as long as the blue line holds above the 70 level (top line of the lower window on the chart) and the relative strength index (RSI)(14) stays above 50, this is one trend that should be given every benefit of the doubt, given the volatile nature of gold and its related mining shares.

Prices have finally cleared the 50-week exponential moving average (EMA) as well, another confirmation of this fund's current upward trajectory; if the EMA begins to slope upward and price can clear the Fibonacci 61.8% retracement on a weekly close, expect even more buying pressure to enter this fund. The next significant chart resistance resides at $35.07 (coincident with the Fib 61.8% retracement), so if both are breached, a trip up to the Fib 78.6% level (near $41) is a distinct possibility.





FIGURE 2: TOP FIVE FIDELITY SECTOR FUNDS. The end of the first quarter of 2009 ends with these five Fidelity sector funds at the top, based on a weighted average of their six- and 12-month rankings. FSAGX, Fidelity Select Gold, continues to outperform.
Graphic provided by: MetaStock.
The rest of the Fidelity sector fund complex bears witness not only to the strength of gold mining shares but also of the technology, biotech, and retailing sectors, too. The wireless and telecom industry groups are represented by FWRLX and FSTCX, respectively, while the biotech and retailing groups are represented by FBIOX and FSRPX. See Figure 2.

At the bottom of the six- and 12-month relative strength pile reside the banking, automotive, financial services, home finance, and energy services industry groups, represented by FSRBX, FSAVX, FIDSX, FSVLX and FSESX, respectively. See Figure 3.



FIGURE 3: BOTTOM FIVE FIDELITY SECTOR FUNDS. And here are the weakest five Fidelity sector funds, based on a weighted average of their six- and 12-month rankings. Financials and the automotive and energy services industry groups continue to underperform.
Graphic provided by: MetaStock.
While some traders use traditional technical analysis tools to time entries into sector mutual funds, many others prefer to use sector rotation methods based on relative strength. The big idea with relative strength methods is that trends tend to persist, meaning that the funds that are strong tend to stay strong for a period of time, duration unknown.

Over time, various sector funds will gain or lose momentum, meaning the recent past's big winners will eventually give way to lower-ranked funds that are finally beginning to outperform. It's sort of like a never-ending horse race, where the goal is to keep your trading capital riding on the saddle of the most consistent winners. Does it work? Well, yes, it can, but expect some substantial drawdowns during periods when the broad markets are in a confirmed bear market, a time when even "outperforming" funds tend to produce less than satisfying gains.

Conversely, during confirmed bull markets (where all the major market indexes are rising, making new highs month after month) sector fund investing using relative strength methods is probably the closest thing to a trader's and/or investor's dream of heaven on Earth.