PRINT THIS ARTICLE
REL. STR COMPARATIVE
---
MAS Has Weak Relative Strength
03/18/09 08:54:57 AM
---
by Donald W. Pendergast, Jr.
---
The S&P building products group has the worst 13-week relative strength vs, the S&P 500. Here's a look at one of the weaker stocks in this group.
Security:
MAS
Position:
Sell
The recent reversal in the broad US indexes has been astounding. The Standard & Poor's 500 turned higher from 665.70 a week and a half ago, rising all the way to 774.00 (intraday high) as of Monday, March 16's trading session. Just about every industry group's component stocks have participated, too, lending a great deal of credibility to this major round of capitulation. However, the S&P 500 is now beginning to approach an area of heavy overhead resistance, and traders wishing to be prepared for a possible short-term reversal might do well to investigate the charts of stocks from the weakest industry groups — the ones that didn't carry all that much higher on the rebound rally. A fundamental and technical look at one such stock is our next task.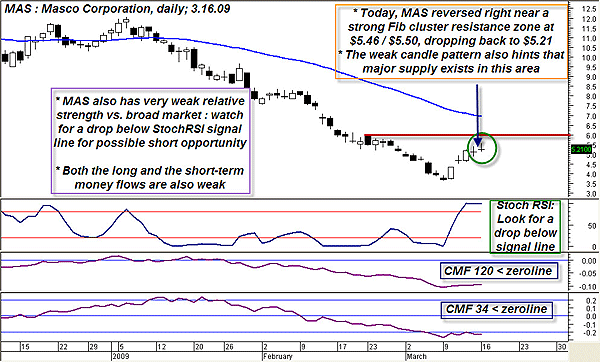 FIGURE 1: MAS, DAILY. A peaking stochRSI, weak money flows, and heavy overhead resistance all suggest that a move lower may occur soon in this stock.
Graphic provided by: MetaStock.
Masco Corp. (MAS) is a major supplier of home building/home improvement products such as kitchen cabinets, plumbing fixtures, and other related items. During the great housing boom of 2001–06, the company produced a steady, progressively rising stream of revenue and earnings. Since then, things haven't been going so well, as evidenced by the substantial drop in MAS stock prices.

Peaking at $38.43 in early 2005, the stock now trades in the realms of the sub-$5 bargain bin on the NYSE. Currently, the stock has an EPS of -$1.11 annually, and given that it hails from the weakest relative strength industry group, it could be a possible short candidate. At some point, as the housing market makes a final low, this stock could become an outperformer once again, but for now the fundamentals are clearly stacked against this company's stock.


Masco's technicals are equally grim, despite the fact that the stock did manage a feeble reversal in concert with the major indexes. The rally in MAS may be running out of steam, however; prices reversed right near a significant multi-Fibonacci resistance zone ($5.46/$5.50) closing at $5.21 today. The pathetic candlestick pattern also provides evidence that MAS has plenty of stock available for sale in the $5.20–5.50 range. Even if it manages to crawl a little higher, there's another strong resistance area near $5.80 (red horizontal line). See Figure 1.

Elsewhere on the chart, the stochRSI has peaked even as both measures of Chaikin money flow (the long-term [120-day period]) and short-term (34-day period]) are still mired in bear market territory. Nimble short-sellers might wait for the stochRSI to drop below its upper signal line before attempting a short, and that only if the broad market indexes also pull back in sympathy. In fact, trading such a potential short setup might be safer on a 30- or 60-minute chart; sort of an in-quick, out-quick smash 'n grab kind of trade. The reason is that even if the broad markets pull back a little, the odds are high that they will attempt a retest of Monday's highs sooner rather than later.

Retest or not, it's usually best to keep short-sale trades open for a limited time in most cases.


---
Donald W. Pendergast, Jr.
Donald W. Pendergast is a financial markets consultant who offers specialized services to stock brokers and high net worth individuals who seek a better bottom line for their portfolios.
Title:
Writer, market consultant
Company:
Linear Trading Systems LLC
Jacksonville, FL 32217
Phone # for sales:
904-239-9564
E-mail address:
lineartradingsys@gmail.com

Traders' Resource Links

Linear Trading Systems LLC has not added any product or service information to TRADERS' RESOURCE.
---
Click here for more information about our publications!
Comments
Date:
 03/19/09
Rank:
 5
Comment:
PRINT THIS ARTICLE