PRINT THIS ARTICLE
OSCILLATORS
---
Back To School?
03/12/09 11:47:51 AM
---
by Koos van der Merwe
---
When times are tough, like now, and people are being handed pink slips, is it time to go back to school?
Security:
APOL
Position:
Accumulate
It sure looks like it's time to go back to school. The Apolla Group was founded in 1973 in response to a gradual shift in higher education demographics from a student population dominated by youth to one in which approximately half the students are adults, over 80% of whom work full-time. Apolla's founder believed that lifelong employment with a single employer would be replaced by lifelong learning and employment with a variety of employers. In today's economic crises, where pink slips are freely distributed, what is better than the opportunity to improve one's qualifications by going back to school?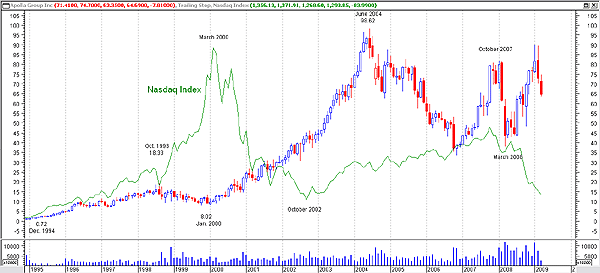 FIGURE 1: APOLLA, MONTHLY WITH THE NASDAQ
Graphic provided by: MetaStock.
Figure 1 is a monthly chart of the Apolla Group (APOL), with the NASDAQ superimposed. The chart shows the price of $0.72 (adjusted) in December 1994 when the company listed on the NASDAQ. The price rose strongly with the growth in the NASDAQ reaching a high of 18.33, but as the index took off exponentially to its high in March 2000, the price of APOL fell to a low of $8.02 by January 2000. This suggested that as jobs became freely available, the Apolla Group could have lost revenue by losing students. The rise in the stock price as the NASDAQ fell with the dotcom bubble burst seems to confirm this. More students would have remained with their studies, and those who lost their jobs would have returned to their studies.

This continued until June 2004 when the share price reached a high of $98.62, two years after the NASDAQ bottomed in October 2002. The chart seems to suggest that it took two years for the job market to start raiding students to fill vacancies.

In October 2007, as the NASDAQ fell with the recent economic crisis, so did the price of APOL, but in March 2008 the stock price started rising again as NASDAQ continued to fall, suggesting a five-month delay before there was a new influx of students. Does this mean that when the NASDAQ once again starts recovering, we can expect the share price of APOL to continue to rise for a further two years as students complete their studies, or does it take that long for the job market to absorb available applicants? This seems to be a very strong probability based on past history.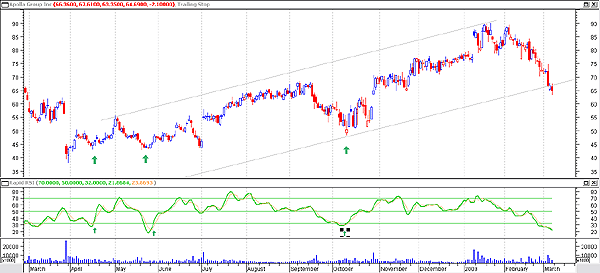 FIGURE 2: APOLLA, DAILY
Graphic provided by: MetaStock.
The daily chart (Figure 2) shows that the price has brokent support on a trendline drawn parallel to the resistance line connecting the highs. The rapid relative strength index (RSI) is oversold, but not yet given a buy signal. Note how accurate the indicator was with previous buy signals. Note too that as the price falls, volume appears to be drying up, a bullish signal.

To conclude, the stock price of APOL is very close to giving a buy signal, and past history suggests that once it does, we can expect the price to continue rising for at least two years.


---
Koos van der Merwe
Has been a technical analyst since 1969, and has worked as a futures and options trader with First Financial Futures in Johannesburg, South Africa.
| | |
| --- | --- |
| Address: | 3256 West 24th Ave |
| | Vancouver, BC |
| Phone # for sales: | 6042634214 |
| E-mail address: | petroosp@gmail.com |
---
Click here for more information about our publications!
Comments
Date:
 03/12/09
Rank:
 3
Comment:
PRINT THIS ARTICLE