The NASDAQ 100 recently printed another in a series of bearish 21-day channel breakout signals, even as its money flow trend remained deep into negative territory. Normally, such an event is viewed as a legitimate short entry signal, particularly for mechanical trend-followers. Right now, however, the QQQQ is just above the last major low that printed in November 2008, meaning that the trade may not have much room to run before encountering significant support. Even though the QQQQ may not be the best short setup, examining the channel breakout ratios of its component stocks might shed some light on the internal machinations of this widely followed index exchange traded fund (ETF). To do that, we'll run a MetaStock exploration, one designed to search for 55-day bullish channel breakouts and 21-day bearish channel breakouts. See Figure 1.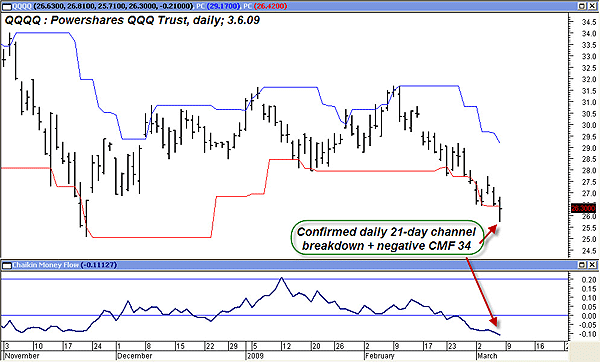 FIGURE 1: QQQQ, DAILY. Weakness is evident here, as depicted by the 21-day channel breakout and the negative money flow. Prices are approaching the November 2008 lows, however, and that could offer strong support.
Graphic provided by: MetaStock.
The MetaStock exploration formula is very basic and is shown in Figure 2. Adding the Chaikin money flow (CMF)(34) qualification makes sure that the exploration will only return long breakouts with positive money flow and short breakouts with negative money flow. Since all of the current NASDAQ 100 component stocks (represented by the QQQQ) have adequate liquidity, no minimum volume filter is used. This is a daily based exploration. Let the exploration run and see what kind of output it generates for Friday, March 16, 2009.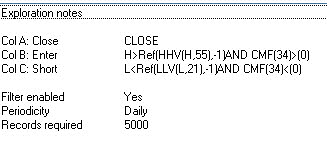 FIGURE 2: METASTOCK, EXPLORATION. The MetaStock exploration code for a simple long (55-period) and short (21-period) channel breakout system.
Graphic provided by: MetaStock.
And here it is, in Figure 3; only one stock, ATVI, has generated a long 55-day channel breakout signal, whereas more than 40 stocks have generated a short 21-day channel breakout signal. Approximately 51 stocks have generated no signals at all. Clearly, the ratio, at 46:1 short to long, is biased heavily to the bearish side of the market. The fact that 46% (46 of 100) of all NASDAQ 100 stocks are on a fresh sell signal helps give extra weight to the daily QQQQ sell signal as well. Now, our main job is to run a relative strength exploration to determine which of the short breakout NASDAQ 100 components are the weakest. Doing so may help us latch onto the stocks likely to fall the most distance in the shortest amount of time.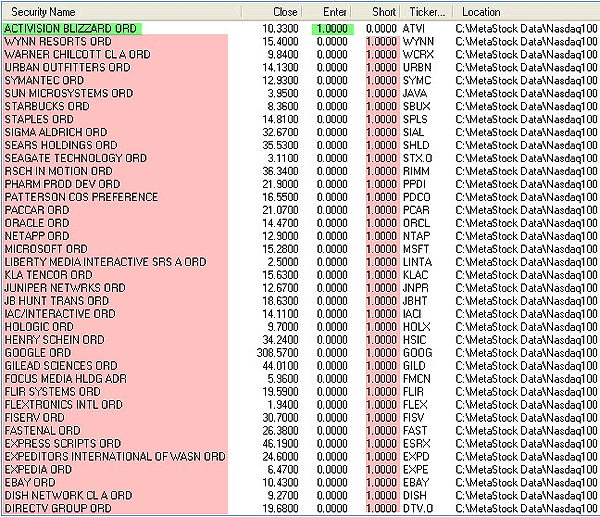 FIGURE 3: NASDAQ 100, PARTIAL. A partial list of the 47 NASDAQ 100 stocks on either a long or short channel breakout signal.
Graphic provided by: MetaStock.
Running this exploration only takes a moment; we now find that WYNN, URBN, FLIR, and COST are the stocks with the weakest relative strength that have also generated short 21-day channel breakout entry signals. Note how each stock hails from a different industry group, allowing a risk-averse trader to spread his capital across four different industry groups should these short trade entries all be taken. See Figure 4.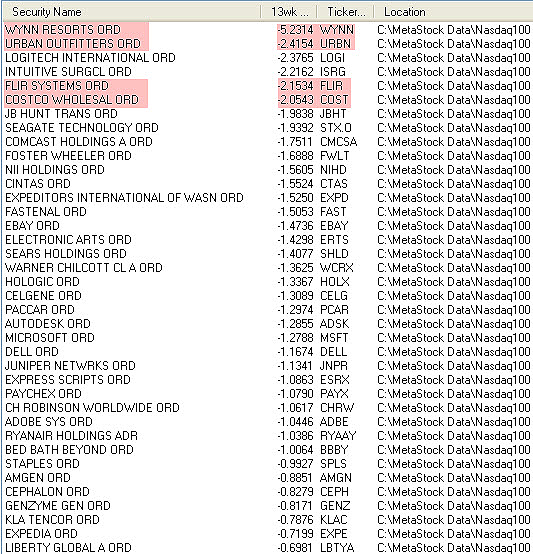 FIGURE 4: NASDAQ 100, WEAKEST. Here are the four weakest Nasdaq 100 stocks that have also generated a short 21-day channel breakout sell signal.
Graphic provided by: MetaStock.
Although this is a reasonable way to screen for suitable trading candidates, wise traders will also keep an eye out for the price action of the QQQQ should it approach the November 2008 lows again. Anyone short any of these four stocks at that time should monitor their positions closely, just in case a reversal erupts into violent NASDAQ 100 short-covering rally.