PRINT THIS ARTICLE
SYMMETRICAL TRIANGLE
---
Range Resources Triangle
03/06/09 09:03:43 AM
---
by James Kupfer
---
Range Resources is worth watching for a potential breakout.
Security:
RRC
Position:
Hold
Shares of Range Resources (RRC) have spent the last six months forming a symmetrical triangle pattern. In such a triangle, a trendline drawn both above and below the stock price contracts over time, starting wide and getting continually smaller until such time as a breakout occurs.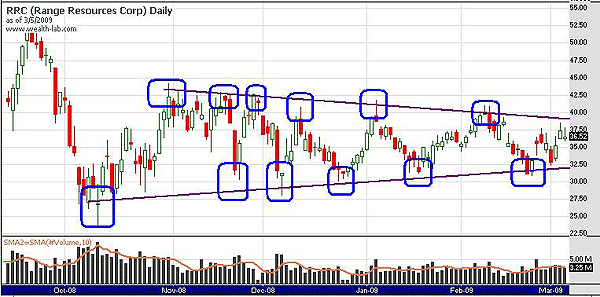 FIGURE 1: RRC, DAILY. Blue ovals show all reversal points on the triangle.
Graphic provided by: Wealth-Lab.
With a triangle formation, the best course of action is normally to wait for a breakout either up or down. While it has been suggested that most of the breakouts occur in the direction of the original trend — in this case, down — wait to see what the stock decides to do.


Once a breakout does occur, the price target can be determined by adding the difference between the two oldest points from the start of the pattern and adding or subtracting to the breakout point. In this case, that would be roughly $42.50 - $30 +/- breakout point.


---
James Kupfer
Mr. Kupfer is a market professional and amateur stock market commentator. Disclosure: It is likely that Mr. Kupfer has or will enter a position in any security he writes about.
---
Click here for more information about our publications!
PRINT THIS ARTICLE