The broad US market indexes staged a fairly credible basing/recovery move from November 2008 through February 2009, but now the markets have plunged beneath last autumn's panic lows, en route to who knows where. The Dow 30 has fallen more than 50% since November 2007, and, not surprisingly, Home Depot (HD), the huge home improvement retailer/Dow component, has also dropped substantially.

What is the current technical situation with HD and, more important, is there a trade setup worth taking here?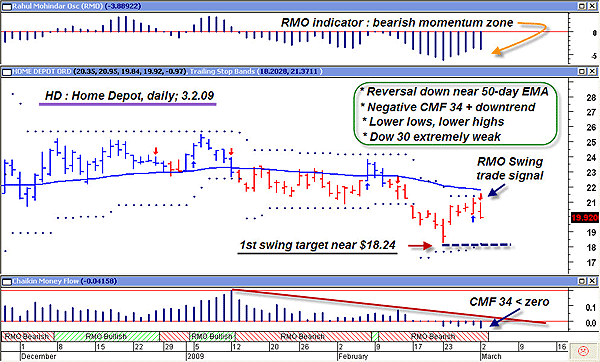 FIGURE 1: HD, DAILY. While no trade setup guarantees a profit, some are clearly more appealing than others. HD's daily chart features lower lows and lower highs, weak money flow, negative momentum, and a swing sell signal, plus a favorable risk to reward ratio.
Graphic provided by: MetaStock.
Graphic provided by: Rahul Mohindar oscillator from MetaStock.
Home Depot's daily chart (Figure 1) looks interesting; it's a low-risk short setup with a decent risk to reward ratio, one occurring at a time when the broad US markets are starting to hemorrhage once again. All of the key ingredients for a quick short swing trade appear to have lined up:

* The Dow 30 index is weak and falling fast.
* HD's momentum, as depicted by the Rahul Mohindar oscillator (RMO), is very negative.
* The Chaikin money flow (34) has a heavy negative trend, one that's also below its zero line.
* Prices reversed just shy of the downsloping 50-day exponential moving average (EMA).
* A swing sell signal has also printed on the chart.

All in all, it looks like a go for a short setup or for a long put purchase. What might be the best way to play this for those willing to give this trade a shot?


For those willing to short HD, a sell-stop order could be placed a couple of ticks below today's low near $19.83; if filled, a buy-stop loss can be placed just above today's high near $20.96. The initial target is the prior swing low of $18.24, and it might be a good idea to take half of the position off if that target is attained. Given the bearish posture of the Dow Jones Industrial Average (DJIA) right now, a quick move down toward that low might not take very long. Traders could also lock in potential profits on the position with a three-bar trailing stop of the highs. This could enable more staying power (that is, more profits on an HD short) if things really get out of hand and the DJIA decides to really shed some more digits in a hurry.


Option traders might consider selling an HD April 2009 22.50/25.00 bear call spread for a credit of 0.45 or better; the 50-day EMA and the recent swing high should act as a solid resistance barrier, one able to offer some protection to credit spread sellers. If the anticipated move down toward $18.00 occurs, simply close the spread out for a few dollars and hit the ground running, free and clear of the position. If the 50-day EMA and/or swing high is breached, closely monitor the spread being sure to close it out if the spread increases in value by 75%.




As dire as the situation looks with the Dow 30 right now, I found one small sign of hope on one of my New York Composite index (.NYA) charts; the internal strength readings are still better than they were at the November 2008 lows. It will be fascinating to see how all of this plays out in the weeks to follow, that much is certain.