"Things are different this time," those famous last words of CNBC's Bob Pisani before the technology crash of 2000, could well apply today. Far too many financials have taken a bath as investors have run from them as the market collapsed. More than interesting, though, is that the two runners-up in the recent CNBC Million Dollar competition are two women, both of whom decided that the financials were oversold. They bought and they scored.


A recent press release about GMP Capital Trust called for a
monthly cash distribution of $0.05 per fund unit for February 2009 to be paid on March 20, 2009. At the present price of C$6.52, this brings the yield to 9.202%. Is it worth buying?

GMP Securities is a leading independent Canadian investment dealer focused on investment banking and institutional equities for corporate clients and institutional investors. GMP Securities can be found at gmpsecurities.com.

Figure 1, a weekly chart, shows how the price has fallen from a high of $28.97 on May 2006 to the low of $3.10 by December 2008. Since that date, the chart shows how the price has risen to test the resistance line at $7.58 by February 2009. The relative strength index (RSI) has given a buy signal, but volume has fallen as the price rose, suggesting weakness.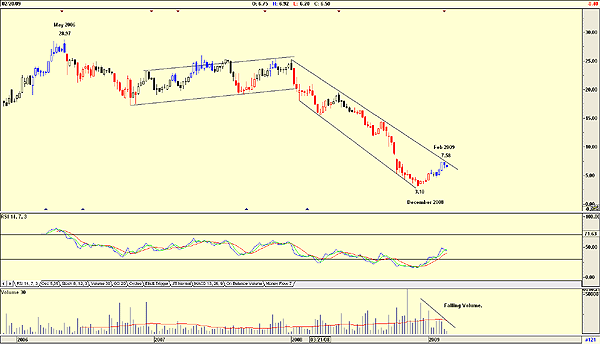 FIGURE 1: GMP CAPITAL TRUST, WEEKLY
Graphic provided by: AdvancedGET.
The daily chart (Figure 2), however, shows that a cup & handle formation has developed, suggesting a target of $8.84 (5.97 - 3.10 = 2.87 + 5.97 = 8.84). The chart also shows how the price broke above the handle's resistance line to test the upper resistance line at $7.58. At that point, the RSI gave a sell signal, suggesting weakness ahead. Note how volume rose as the price did, a sign of strength.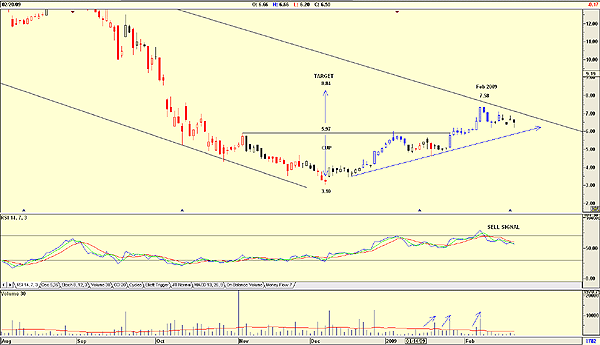 FIGURE 2: GMP CAPITAL TRUST, DAILY
Graphic provided by: AdvancedGET.
So do you take the chance and buy GMP Capital Trust? The company does appear to be consistent with their monthly distribution. In November 2008, the company announced that a normal course issuer bid (NCIB) has been accepted by the Toronto Stock Exchange (TSX). The fund intends to purchase for cancellation up to 4,482,792 fund units, representing 10% of the public float of 44,827,922 fund units on November 18, 2008, over the next 12 months. Purchases may commence on December 1, 2008, and will conclude on the earlier of the date on which purchases under NCIB have been completed and November 30, 2009. This is a sign of strength. At the current yield, the stock looks extremely attractive. With the present high yield, it may be truly different this time.