The entire mining sector almost appeared as if it was ready to collapse into a black hole as the general equity and commodity market selloffs gathered steam in the summer and autumn of 2008. Now that a semblance of rationality has returned into the marketplace, some investors are viewing the shares of mining companies in a new light. Stillwater Mining Co. (SWC) has one of the more interesting set of fundamentals and technicals and may be offering traders and investors an interesting opportunity.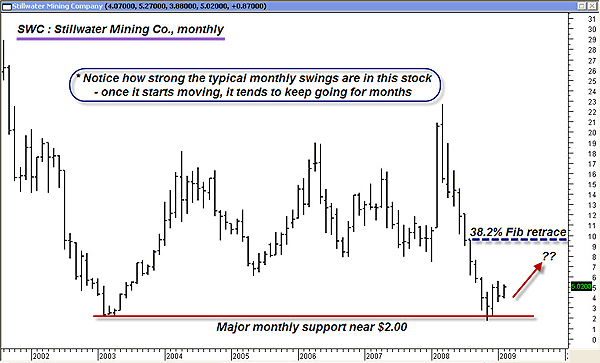 FIGURE 1: SWC, MONTHLY. Well-defined peaks and valleys highlight the trendworthiness of this volatile platinum/palladium mining stock.
Graphic provided by: MetaStock.
Stillwater's monthly chart (Figure 1) depicts the "mountain range" price action of the past seven years. This stock tends to make major moves, trending up or down for months at a time, with very little time spent in trading range or consolidation phases (at least on a monthly basis). No doubt, the fact that platinum and palladium are the primary minerals mined by the company accounts for some of the wild price swings in the stock. Palladium and platinum are very thinly traded markets, markets that have made violent moves from time to time. The 38.2% Fibonacci retracement lies a little south of $10, and, while the stock has several resistance barriers between the current price and that level, the fact that SWC tends to make monthly bullish swings lasting five to 12 months means there is a possibility that the stock may be in the midst of a similar move right now. Let's glance at a weekly chart before looking at a way to play SWC with options. See Figure 1.

There is a fairly solid $2.00 support level beneath SWC, and that level should hold for some time, all else being equal, given the positive long-term fundamentals for the platinum and palladium markets. SWC is the only US-based miner of these two critical metals, and that puts the company in a rather enviable position during periods of strong commodity pricing.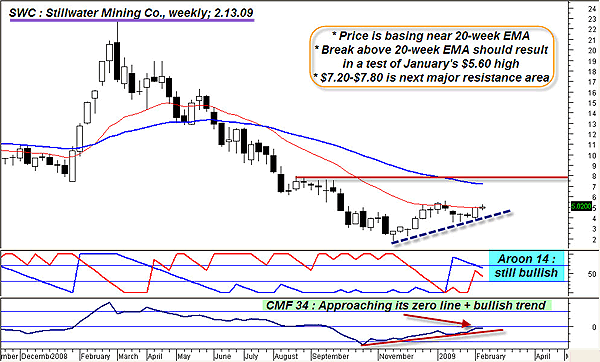 FIGURE 2: SWC, WEEKLY. Solid trend and money flow characteristics may imply further price gains for Stillwater shares.
Graphic provided by: MetaStock.
SWC's weekly graph (Figure 2) shows us an Aroon (14) reading of 64, still resting comfortably in the bullish zone. In addition, the Chaikin money flow (34) (CMF) is maintaining a bullish trend even as it begins to approach its zero line. Typically, once the CMF (34) crosses its zero line, a strong trend has been confirmed. Price is basing right near the 20-week exponential moving average (EMA), and a weekly close above it should lead to a quick test of January's swing high at $5.60. Beyond that, the stock would have plenty of room to run, with the next resistance areas coming in between $7.20 to $7.80 (near the 50-week EMA and the August 2008 high).


How to play this volatile miner? Two possibilities come to mind. First, those who believe SWC is likely to run higher for another three to six months might want to buy an initial stake near $5.00 and then add on additional shares on daily pullbacks against the weekly uptrend. More conservative investors might consider selling a March $5.00 covered call. A $5.00 call is going for about $0.60 (as of Friday, February 13, 2009), so if the shares are called away at March expiration, the percentage gains would be substantial, more than 13% for a four and a half week investment of capital. That's more than 140% on an annualized basis. If the trade sputters out and the stock breaks the weekly uptrend line (blue dashed line) or if the Aroon (14) indicator drops below 50, simply close out the trade and wait for a better setup. If you're a hard-core mining bug, simply hold the shares and keep selling calls against it for as long as you're convinced that the charts will keep you on the right side of the market.


Trading shares in the mining sector can be among the most profitable sorts of trades, given the incredible volatility that permeates this sector. Whether you tend to follow the gold/silver/platinum/palladium (precious metals) shares or gravitate toward the copper/iron/lead/zinc companies (base metals), you should have no problem finding more than enough liquid, high-volatility stocks to choose from. Even better, many of these companies offer options with decent bid-ask spreads and healthy trading volume.