Cardero Resource Corp. (CDY) focuses on the exploration of iron, copper, and gold ores in Mexico, Peru, and Argentina. Its common shares are traded on the AMEX (as CDY), TSX (as CDU), and Frankfurt (as CR5) exchanges. As it is a very small-cap issue, the shares had been mired in a lackluster sideways-to-down funk for the past nine months — until recently. The shares have apparently caught a major bid, and the stock has begun to rocket higher. Is this just a fluke, or is there a sound fundamental and technical reason to consider latching onto this mining stock?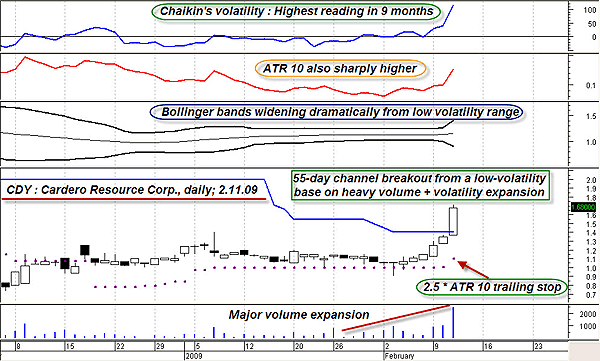 FIGURE 1: CDY, DAILY. A 55-day channel breakout from a low-volatility base, with a dramatic increase in volume; entering this stock on a pullback might be one way to play this move.
Graphic provided by: MetaStock.
Cardero's daily chart (Figure 1) displays a number of indicators, all of which have one common goal, which is to determine if this breakout is valid. The top indicator is Chaikin's volatility, which is at its highest reading since April 2008's bull run in this stock. This is extremely valuable information, nearly enough to begin planning how to enter this stock on a pullback, but let's get a little more confirmation. Dropping one pane lower, the average true range (ATR) (10) line has turned decisively higher, lending further confirmation that the breakout is legitimate. Next in line, the dramatically widening spread of the Bollinger bands adds even more confirmation that this stock has emerged from a very low-volatility environment with a vengeance. Finally, the most important detail — the actual price chart. CDY has just made a major break through its 55-day upper channel (blue line), and given the substantial, low-volatility basing period prior to the leap higher, this appears to qualify as a major trend-following opportunity (Turtles, start your engines).

And one more verification — look at the volume on today's wide-range candle; it's about three times the average daily volume of the last two months. Yes, this appears to be the real deal, something that trend-followers dream about — a major channel breakout from a relatively flat base on heavy volume. For the sake of those who missed the daily breakout, let's drill down to a 78-minute chart and see how we might be able to time a possible pullback entry into CDY.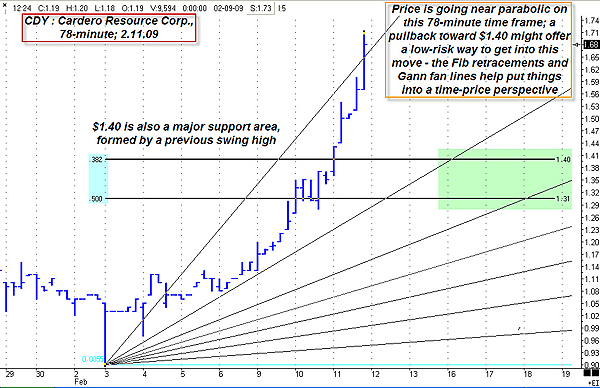 FIGURE 2: CDY, 78-MINUTE. The combination of Gann fan and Fibonacci retracement lines can often provide a time-price perspective (for likely support/resistance zones) not ordinarily discernible to the untrained eye, and $1.40 appears to be one such price zone in CDY.
Graphic provided by: Ensign Windows.
Price is going near-parabolic on the 78-minute chart (Figure 2); while it can still go higher, a pullback toward $1.40 would bring CDY down to the 38.2% retracement, a price zone coincident with a precious swing high at $1.40. This could provide a fairly low-risk price zone in which to enter CDY after the initial euphoria over the breakout wears off (and nervous traders sell for quick gains, temporarily driving prices back down). The confluence of the Gann fan and Fibonacci retracement lines can sometimes help pinpoint entry/exit points, and they are displayed here for that purpose.


Fundamentally, Cardero is a member of one of the hottest industry groups, the gold/silver mining industry group. There are plenty of solid reasons to own gold and silver, not to mention the stock of the companies that mine and produce them, given the tenuous state of the global financial system. However, since CDY is such a small-cap stock, those willing to take a shot at this one might wish to do so with a relatively small amount of capital.