PRINT THIS ARTICLE
REL. STR COMPARATIVE
---
Gold To Crude Ratio Still Favoring Gold
02/03/09 08:22:25 AM
---
by Donald W. Pendergast, Jr.
---
After making a breathtaking, parabolic move toward 25, the gold/crude oil ratio has consolidated, tracing out what could be the early stages of a pennant or wedge pattern.
Security:
GC, CL
Position:
N/A
Gold has staged an impressive rally since bottoming out near $700 a few months ago, even as crude oil has been attempting to make a major low. Will gold continue to outperform crude oil, or are the dynamics ready to change once more?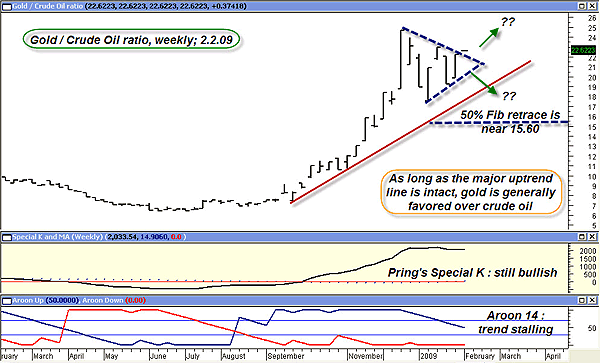 FIGURE 1: GOLD/CRUDE OIL RATIO, WEEKLY. Which way now? Who really knows, but for now, the balance of power favors gold over crude oil. A convincing breakout from the pennant may answer many questions in the weeks to come.
Graphic provided by: MetaStock.
"A trend in motion should be given the benefit of the doubt" is a quote attributed to James Dines, one of the best-known technical analysts and trading educators of the last 50 years. The trend we see should also be given a great deal of respect, seeing how much ground it has covered in such a short amount of time.

Usually, after a sustained parabolic rise, a period of trend consolidation occurs, and that's what we're seeing here now. It could play out as a major A-B-C corrective pattern or resolve itself as a breakout from the smaller wedge/pennant traced out in blue dashed lines. Of course, the combined price action of two different commodities is represented here so the possibilities for future price movement is essentially unlimited, but for the time being, it would pay to favor the gold side of the equation depicted on this ratio chart (Figure 1).

The Aroon 14 indicator confirms the consolidation that's under way, but the trend itself is not negated by the current Aroon reading of 50. The Pring Special K indicator, a unique momentum/ rate of change tool, is a bit more bullish, although it too has begun to flatten out with the consolidating price action. Bottom line is if the red major uptrend line can contain any further retracements, we may yet see a new high established in this ratio this year, especially given the unique (bizarre?) set of economic trends that are playing out in the global economy.


Gold bugs are concerned with the massive infusion of liquidity, much of which has been created out of thin air by central banks, fearing the resulting inflation that may be set in motion by such desperate measures. This explains at least part of the massive rally in gold since late October.

At the same time, crude oil prices seem to be driven more by fears of slowing demand in the wake of massive job layoffs, plant closings, and fewer miles driven by the average motorist. For now, neither of these two sets of fundamental price drivers appear to be in danger of altering the balance of power in the gold to crude oil ratio.


How to put this knowledge to work? Futures traders could construct spread trades designed to capitalize on the ratio chart, using their own timing tools. Equity traders could take advantage of gold's strength by latching onto liquid gold/silver shares on minor pullbacks, possibly even selling covered calls against stocks that will be held long term in anticipation of substantially higher precious metals prices in the months and years to come.


---
Donald W. Pendergast, Jr.
Donald W. Pendergast is a financial markets consultant who offers specialized services to stock brokers and high net worth individuals who seek a better bottom line for their portfolios.
Title:
Writer, market consultant
Company:
Linear Trading Systems LLC
Jacksonville, FL 32217
Phone # for sales:
904-239-9564
E-mail address:
lineartradingsys@gmail.com

Traders' Resource Links

Linear Trading Systems LLC has not added any product or service information to TRADERS' RESOURCE.
---
Click here for more information about our publications!
Comments
Date:
 02/05/09
Rank:
 3
Comment:
PRINT THIS ARTICLE