Everyone, it would seem, knows Sandisk. Over the past 10 years, the company has evolved into one of the premier data storage forms in the world, offering products as diverse as portable USB flash drives, digital media players, and mp3 players, among others. The company's shares have taken quite a beating since the latter part of 2005 and are now selling for a fraction of their once-lofty highs. Since making a major low in November 2008, however, the stock has staged a substantial comeback and now boasts one of the highest relative strength (RS) ratings versus the Standard & Poor's 500 and NASDAQ 100 indexes. Can this stock keep moving higher? A glance at SNDK's monthly chart is our first stop (Figure 1).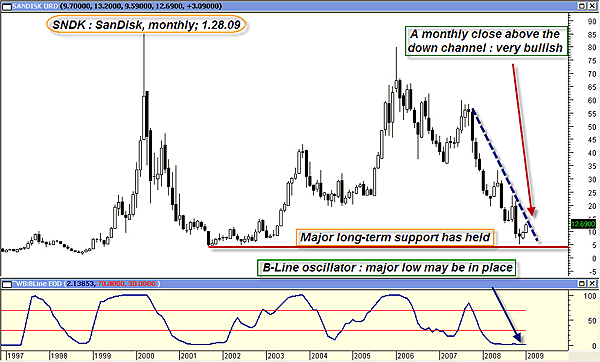 FIGURE 1: SNDK, MONTHLY. Is a major low in place? For now, the answer is yes. If the B-line oscillator turns higher, crossing its signal lower line, the low will be confirmed. If the blue down channel line is broken on a monthly close, that will be additional confirmation.
Graphic provided by: MetaStock.
Graphic provided by: WB BLineEOD from ProfitTrader for MetaStock.
From all appearances, SanDisk looks as if it has and/or is in the process of establishing a major monthly low. The fact that the recent selloff was contained by the major 2001 low (red horizontal line) even as the B-line oscillator (a reliable cyclical and trend confirmation tool) was at an extremely oversold level combines to give an extra level of confidence for those desiring to play SNDK's strong relative strength (based on a 13-week rate of change versus the S&P 500 and the NASDAQ 100 indexes) ratings.

Moving down to SNDK's daily chart may give us a better idea of how to take advantage of this strong tech stock (Figure 2).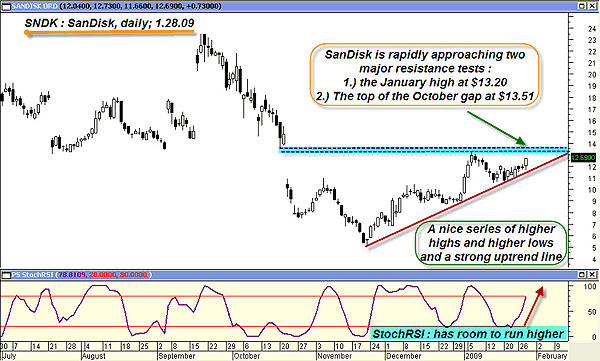 FIGURE 2: SNDK, DAILY. Sandisk may soon face two major resistance tests, as depicted by the blue-shaded horizontal lines.
Graphic provided by: MetaStock.
SanDisk has traced out a convincing series of higher highs and higher lows as it pushes higher toward two important resistance tests. The large open gap created in October 2008 was nearly closed earlier this month when SNDK managed to reach $13.20. Price retraced back down to the red uptrend line, consolidated for a brief spell and then moved higher, away from the trendline. Given the stock's strong RS reading, it seems likely that the January high at $13.20 could be reached fairly soon, although no one knows for certain. If SNDK can take out $13.20 on a daily close, it may have enough juice left to make another attempt to close the gap at $13.51. The stochRSI, one that catches the cyclical turns in SNDK with regularity, still has room to run, giving some credibility to the notion that the gap may be filled before this particular swing fizzles out.

So how to play this one? Price has moved too far to make a daily swing trade feasible as the risk-reward ratio is a little light, but a fairly low-risk way to take advantage of the major monthly cycle low and the strong daily RS might be to put on a covered call play instead.


Currently (as of the close on January 28, 2009), February 2009 $13 calls can be sold for about $1.01. With 100 shares of SNDK purchased at $12.69, this covered call trade will generate about $132 in profits in 23 days on an initial cash outlay of only $1,168. You do the math on the annual return; it's not bad for a three-week investment, but only if the shares are called away at February expiration. If the stock hits the aforementioned resistance levels and then falters, failing to close at or above $13 at expiration, the trader keeps all the option premiums along with his/her SNDK shares. Given the very real possibility that SNDK is moving up from a major monthly low, this stock could offer even more covered call opportunities in the months to come, making the ownership of SNDK shares a relatively low-risk proposition.



This covered call trade would work best for those who wouldn't mind owning SNDK for at least a few months, based on the belief that the stock will be carried higher as the monthly price cycle begins to rise from a major low, exerting a bullish influence on the stock for months to come.