One of the most interesting things about "The Ultimate Trading Guide," a book published by John R. Hill, et, al., is the support the authors give pattern recognition. This surprised me. If there is one area of technical analysis that is more maligned by non-technical analysts than any other, then surely pattern recognition is it. Where even the most hardcore fundamentalist will begrudgingly concede the validity of moving averages under some conditions, or will accept in general the concept of markets being overbought or oversold, nothing brings out the derision in some critics faster than a chartist talking about double bottoms or bump 'n' run reversals.


This underscores two notions: First, and most importantly, chart patterns are nothing more than graphic representations of actual buying and selling in the marketplace. Compared to concepts such as "forward earnings," chart patterns are far less abstract than their critics would admit. Simply because two different chartists interpret the same price action differently does not discount the validity of their interpretations--much less whatever action each chartist does or does not take as a result of these interpretations. A top formation by any other name, so to speak, still suggests that upside is limited; to a degree, what difference does it make if one chartist's triple top is another chartist's head and shoulders?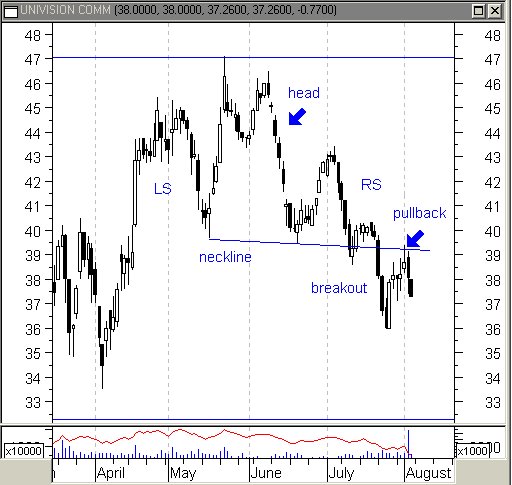 A possible intermediate top is announced by this head and shoulders formation in Univision.
Graphic provided by: MetaStock.
The second notion is that there can be much to gain from chart patterns on the intermediate level (meaning intermediate tops and bottoms off of relative highs and lows, shown on a daily chart of perhaps six months in duration). This is because the same type of relationship between buyers and sellers that occurs on a time frame of months, also occurs weekly, daily and intraday. A long-term top formation, one that has developed at the peak of an extended advance, will likely have a more significant breakout than that from an intermediate top formation. However, to overlook the intermediate-term swings that occur (and that are often anticipated by intermediate chart patterns) can mean missing out on a number of opportunities.


The intermediate head and shoulders top in Univision Communications, a major Spanish-language media corporation, is perhaps one example. This intermediate head and shoulders top develops as part of a rally from a December peak of about 52. The correction from the December peak bottomed in February at 37.5 and prices began, somewhat haltingly, to move up in the spring. The intermediate head and shoulders top features peaks at 45 in late April, 47 in late May/early June, and 43 in early July consecutively, with a neckline at 39.25. As the chart shows, Univision broke out on the downside in late July, pulled back to the neckline, and resumed its descent in August. This pullback, as is the case with many formations, is somewhat of a blessing in disguise-- insofar as it reinforces the neckline as a new area of resistance to any immediate short-term rebound.


A downside breakout from this intermediate formation, if proportionate to the formation size, could take Univision as low as 31. A move to 31 would require Univision to break through at least two levels of support. The first is at about 38, which represents the trough before the April rally, and the second at 37.5, which represents the trough at the end of the correction from the December peak. However, a successful test of the year-to-date lows would represent an excellent opportunity for those who prefer to go long to set their sights on Univision.


Comments
Date:
 08/07/01
Rank:
Comment:
 Your aticles are great but I have a problem with you guys supplying Metastock formulas and not supporting other platforms. I have TradeStation and there are a number of other platforms out there that could use this information. My view is that if you re going to supply this information then supply it for all the majors or don t do any and just supply a very detailed discription of the scan or system and let the reader program their software accordingly. Thanks. Regards, Michael Ugljesa P.S. I have nothing against Metastock.