PRINT THIS ARTICLE
SYMMETRICAL TRIANGLE
---
Airline Breakout?
01/05/09 11:10:30 AM
---
by James Kupfer
---
Airlines moved up in the last few months. Are they breaking out to the upside, or is this time to sell?
Security:
Major Airlines Index
Position:
Buy
Over the last few weeks, I've written about positive chart patterns developing in JetBlue and Alaska Airlines. The positive developments occurring in those stocks seem to be supported by the airline sector in general now with the potential breakout of the airline index from a symmetrical triangle.


As can be seen in Figure 1, the Major Airlines Index has been caught between ascending and descending trendlines since July 2008. The bottom trendline has formed three points while the top one formed two prior to last week's potential breakout.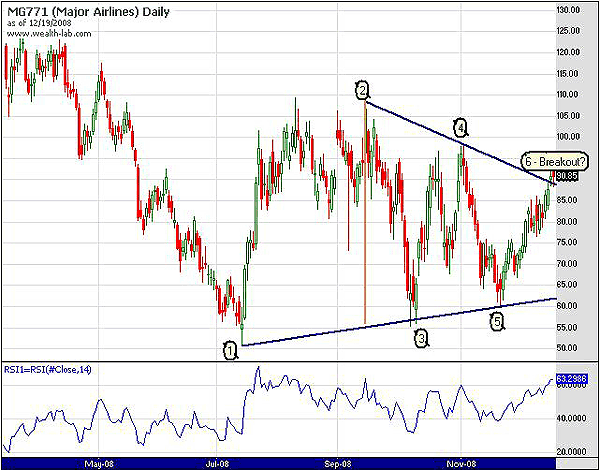 FIGURE 1: MAJOR AIRLINES INDEX, DAILY. The relative strength index (RSI) is moving up strongly in support of this potential price breakout.
Graphic provided by: Wealth-lab.
Assuming this breakout holds, which seems likely, the price target can be calculated by finding the difference between point 2 at $108.58 and the value at the lower trendline below point 2, which in this case is $56. Adding that difference to the breakout price of $90 leads to a price target of $142.58.


---
James Kupfer
Mr. Kupfer is a market professional and amateur stock market commentator. Disclosure: It is likely that Mr. Kupfer has or will enter a position in any security he writes about.
---
Click here for more information about our publications!
Comments
Date:
 01/06/09
Rank:
 4
Comment:
PRINT THIS ARTICLE