PRINT THIS ARTICLE
TRIANGLES
---
Regions Financial's Ascending Triangle
07/19/01 02:16:29 PM
---
by David Penn
---
RGBK looks to finish off a bullish rounding bottom with an even more bullish ascending triangle.
Security:
RGBK
Position:
N/A
Triangles can be important chart patterns to study for a variety of reasons. Perhaps foremost among those reasons, however, is the idea that triangle-shaped price action often represents a narrowing consensus among buyers and sellers as to a tradable's value. Triangles are generally seen to be bullish when that consensus consists of, for example, higher lows and relatively fixed highs. In fact, these highs are often arrayed along a horizontal resistance line. This sort of triangle- an ascending triangle- is thought to be a potentially bullish development insofar as the formation suggests that fewer and fewer shares of the stock in question are available at the lower prices, and that those who want them are going to have to pay more for them than they would have previously.


It is this inability to buy shares at a lower price that can lead to a stock price advance, as demand grows for stocks that (at least from the lows) are getting more and more valuable. Eventually, the horizontal resistance line either holds, often sending prices hurtling back as sellers decide there are enough buyers at resistance to allow sellers to get out with a profit--or the horizontal resistance line breaks, as demand for shares pushes prices above the "artificial" and temporary limit of the resistance line.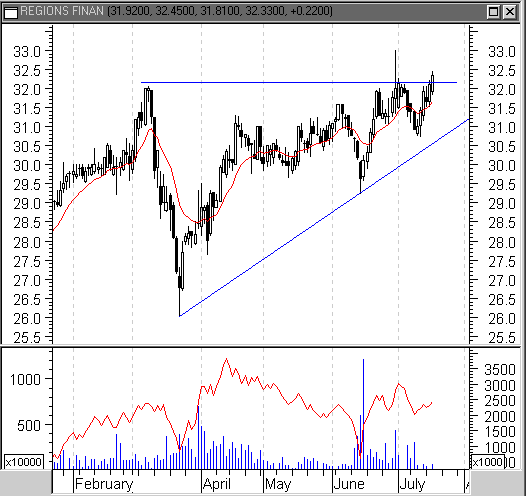 Figure 1: A bullish breakout from this ascending triangle may complete a long-term rounded bottom in Regions Financial.
Graphic provided by: MetaStock.
It is important not only to understand what a "good" chart pattern looks like, but also to understand why a particular pattern looks the way it does. Otherwise, a market technician is likely to get caught up in the aesthetics of double bottoms and right-angled ascending broadening formations--looking for perfect shapes that may not yield better set-ups than some of the less perfect shapes. Knowing that a top is often characterized by rallies that are unable to take out (or establish) a new high, and that a bottom is often characterized by corrections that are unable to take out (or establish) a new low can be more important than being able to rhapsodize about the differences between head and shoulders tops and triple tops.


That said, Regions Financial (RGBK) looks to be on the verge of breaking out of a four and a half month long ascending triangle. The triangle's horizontal resistance line extends from the March high of about 32 to the retests of that high in late June and again in early July. The upward sloping line that forms the bottom of the triangle extends from the March low to the June low. While there is another "bottom line" that could be drawn that would disregard the shadow or tail on the March low point--a line that would connect the late June low AND the July low--I don't think it changes the quality of the pattern significantly.


What is more worrisome about the Regions Financial ascending triangle is the fact that the tests of the horizontal resistance line are not as vigorous as they could have been. At least three tests (including initial and final tests) of the horizontal resistance line are often preferred, insofar as these repeated tests signify greater buying interest in the stock. Similarly, the tests of the bottom, sloping line are not as vigorous as they could be either, particularly during the April and March when Regions Financial was in a tight consolidation within the overall triangle.

Nonetheless, these worries are more a reminder for caution than reason to avoid the stock altogether. The potential upside from a successful ascending triangle (again, formation height added to the value of the horizontal resistance level) is 38, an 18% gain post-breakout. For those who are especially interested in RGBK, consider the fact that the stock has been in a long-ranging rounding bottom since the beginning of 1999, when the stock was trading between 36 and 37 (consult a longer range chart than the one provided to see this). The big volume surge in mid-June may turn out to be a major catalyst for completing both the triangle and the rounded bottom.


---
David Penn
Technical Writer for Technical Analysis of STOCKS & COMMODITIES magazine, Working-Money.com, and Traders.com Advantage.
---
Click here for more information about our publications!
Comments
Date:
 08/06/01
Rank:
 3
Comment:
PRINT THIS ARTICLE