PRINT THIS ARTICLE
STRATEGIES
---
Amazon Bottoming?
12/04/08 08:31:38 AM
---
by Mike Carr, CMT
---
Amazon is showing signs of strength as the market shows signs of a bottom.
Security:
AMZN
Position:
Buy
Amazon.com (AMZN) was once a high-flying Internet bubble stock. It differs dramatically from other stocks of that era in that it had a viable business model and it still makes money. The company earned $1.46 a share over the past 12 months, giving it a price/earnings ratio of 31. At market bottoms, growth stocks have historically led the way higher, and AMZN is showing strong technical support at current levels.


The monthly chart (Figure 1) shows bullish price action. A trendline from the 2001 bottom was tested and held in the most recent decline. This year's decline also met the price objective identified by the two-year rectangle pattern highlighted in Figure 1.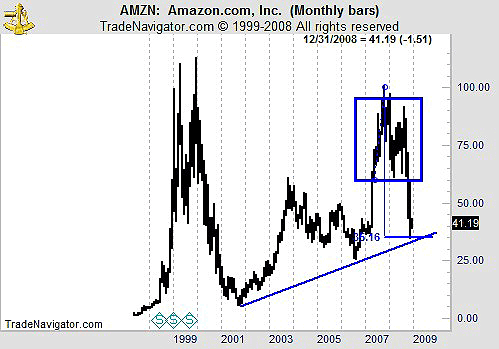 FIGURE 1: AMAZON, MONTHLY. AMZN shows that the price objective from the rectangle has been met near the trendline and a support level formed by the 2005 price action – all bullish indicators.
Graphic provided by: Trade Navigator.
The daily chart (Figure 2) shows that relative strength recently gave a buy signal on the momentum of comparative strength (MOCS) indicator. The MOCS allows us to trade RS signals on an individual stock rather than using the more familiar portfolio rankings of RS. MoCS is a moving average convergence/divergence (MACD) calculation of the stock's performance compared to the Standard & Poor's 500.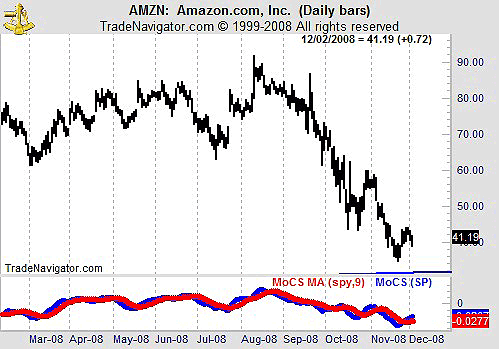 FIGURE 2: AMAZON, DAILY. Here's a timely buy signal and a stop level just under recent lows at 35.
Graphic provided by: Trade Navigator.
Additional bullish support is found in the large short interest in AMZN. Buyins.net reports that with about one out of eight shares of the float shorted, there is a lot of potential demand. The squeeze trigger represents the average price level where short positions were initiated. At this level, many shorts are likely to cover their trade and find a more profitable opportunity in the market. Buyins.net calculates that the average short is now losing money since the squeeze trigger is 42.65. AMZN represents a strong buy.


---
Mike Carr, CMT
Mike Carr, CMT, is a member of the Market Technicians Association, and editor of the MTA's newsletter, Technically Speaking. He is also the author of "Smarter Investing in Any Economy: The Definitive Guide to Relative Strength Investing," and "Conquering the Divide: How to Use Economic Indicators to Catch Stock Market Trends."
---
Click here for more information about our publications!
PRINT THIS ARTICLE