With crude oil and natural gas currently trading near levels not seen since January 2007, it's easy to assume that the bull run in energy is all but over. However, some energy analysts assert that world energy production peaked in 2005 at 87 million barrels per day, even as global demand keeps rising, and is expected to keep rising for several more decades. Meanwhile, most of the easy pickings in the Gulf of Mexico have already been tapped and many of the world's giant oil fields are rapidly being depleted, such as those in Mexico, the North Sea, and Saudi Arabia. If such a situation is the new reality, then the recent plunge in oil and gas prices may offer long-term energy bulls a unique way to generate cash flow along with the chance to make some capital gains as well. Enerplus Resources (ERF), a Canadian oil and gas royalty trust, is one of the stocks currently offering some unique angles for shrewd investors and traders.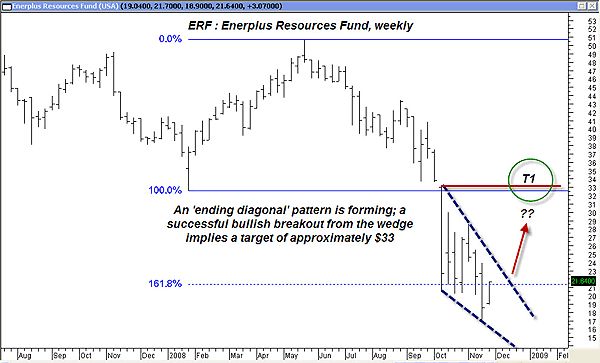 FIGURE 1: ERF, WEEKLY. An ending diagonal may be forming, with potentially bullish implications.
Graphic provided by: MetaStock.
ERF's weekly chart (Figure 1) looks like a "carbon" copy of hundreds of other commodity-linked stocks that have been mauled and mutilated by the global equity bear market. After breaking through the Fibonacci 162% extension level, price has reversed higher as the broad markets began to turn up. The ending diagonal triangle formation is the most bullish feature on this weekly graph; a successful break and close above the upper blue channel implies that a run at $33 is possible, a price derived from the high point of the upper channel line. Let's examine the daily chart (Figure 2) and see what other clues we can dig up.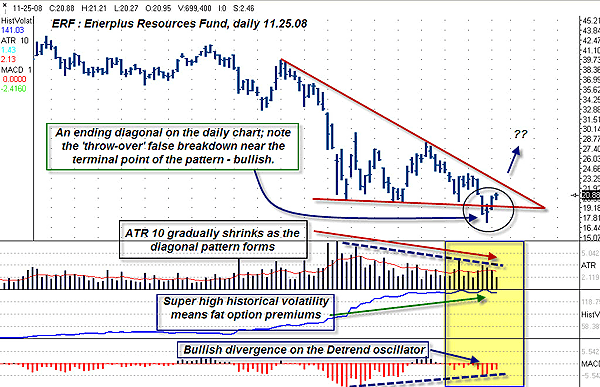 FIGURE 2: ERF, DAILY. A textbook triangle formation, complete with declining volatility and a bullish price-momentum divergence.
Graphic provided by: Ensign Windows.
Yes, it's another ending diagonal setup, pennant, triangle — whatever you label it, it's a very bullish development. Because of the different upper channel starting point, the pattern is essentially complete on the daily chart. Other bullish confirmations include a positive price momentum divergence on the detrend oscillator and a declining average true range (ATR) 10 trend. Earlier I mentioned generating extra streams of cash from ERF, so what does the ultra-high historical volatility have to do with this trade setup? Since volatility is so high, ERF's option premiums are also selling at inflated prices. Buying 100 shares of ERF for $21.64 and then selling a July 2009 $25 covered call for $1.80 against the stock would reduce the net cost of the shares to $1,984. Even better, since ERF pays a 32-cent monthly dividend (that's a 20.70% annual yield), the trader who did the covered call trade would also collect $256 in dividends. So as hard as it is to believe, a trader could potentially profit in three ways — capital gain on the shares ($336), capital gain on the short call ($180), and income from the dividend payments ($256). That's $772 in profit on an initial cash outlay of $1,984 in seven months, assuming the stock rises and is called away at $25. Even if the stock declines, say, closing at $12 at expiration, the net loss on the trade is only about $528, and the trader would still be receiving $32 a month in dividends. He could also choose to sell another covered call against the shares, if desired. As with any option trade, using a low-cost broker and working the bid-ask spread can also help squeeze out some extra gains when acquiring a covered call position.


Industrious traders and investors are always looking for ways to minimize risk even as they seek to maximize their gains. Selling high-priced call options on fundamentally attractive stocks with towering dividend yields is one of the simplest and most effective ways in which they can accomplish both objectives.