PRINT THIS ARTICLE
DESCENDING TRIANGLES
---
Halliburton Hugs Support
11/20/08 09:15:33 AM
---
by Arthur Hill
---
With Halliburton locked in a tight trading range near support, a breakdown would confirm a descending triangle, while a breakup would argue for a retracement rally.
Security:
HAL
Position:
Hold
Figure 1, a chart of Halliburton (HAL), shows 60-minute bars with a descending triangle taking shape. The bigger trend is down and the descending triangle is a bearish continuation pattern. Lower highs show selling pressure coming in at lower and lower levels. Equal lows show demand coming in at the same levels. A break below support would signal a victory by supply (over demand) and point to lower prices.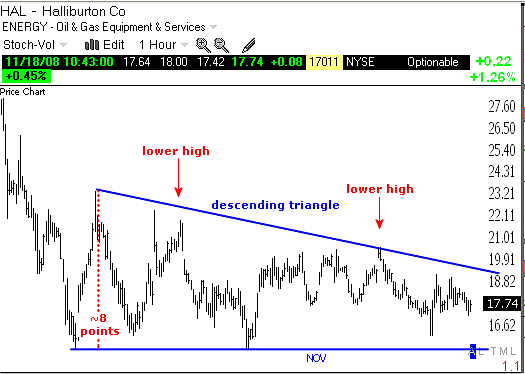 FIGURE 1: HAL, HOURLY. Note the descending triangle taking shape.
Graphic provided by: TeleChart2007.
Based on traditional technical analysis, the height of the pattern is subtracted from the support break for a downside projection. With height approximately eight points and support around 15.5, this projects a move to signal digits. Ouch! This may seem extreme, but the big trend is down and a bear market is raging on Wall Street. It is certainly possible.


Figure 2 shows daily bars with the 50-day and 200-day moving averages. Both are falling and the 50-day is below the 200-day, a clear long-term downtrend. Even so, the stock could conceivably bounce. Should HAL break above the late October and early November highs, the descending triangle would be negated and a retracement rally would be expected. The falling 200-day moving average and September consolidation mark the next resistance area in the low 30s.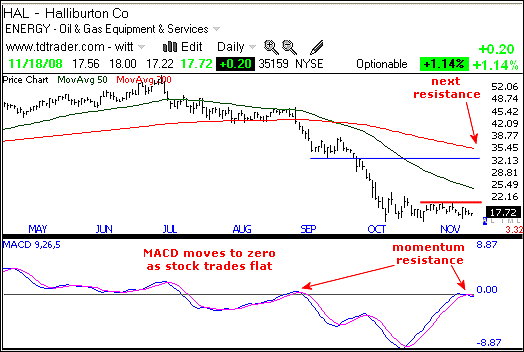 FIGURE 2: HAL, DAILY. Both the 50-day and 200-day moving averages are falling.
Graphic provided by: TeleChart2007.
The bottom indicator window shows the moving average convergence/divergence (MACD). Note how the MACD moved back toward the zero line as HAL traded flat. The MACD is a momentum oscillator and flat trading means flat momentum (zero). The MACD hit resistance at zero in early September before continuing lower. The bears have the edge as long as the MACD remains in negative territory.


---
Arthur Hill
Arthur Hill is currently editor of TDTrader.com, a website specializing in trading strategies, sector/industry specific breadth stats and overall technical analysis. He passed the Society of Technical Analysts (STA London) diploma exam with distinction is a Certified Financial Technician (CFTe). Prior to TD Trader, he was the Chief Technical Analyst for Stockcharts.com and the main contributor to the ChartSchool.
Title:
Editor
Company:
TDTrader.com
Address:
Willem Geetsstraat 17
Mechelen, B2800
Phone # for sales:
3215345465
Website:
www.tdtrader.com
E-mail address:
arthurh@tdtrader.com

Traders' Resource Links

TDTrader.com has not added any product or service information to TRADERS' RESOURCE.
---
Click here for more information about our publications!
PRINT THIS ARTICLE