PRINT THIS ARTICLE
DOUBLE BOTTOMS
---
Jet Blue To Take Flight?
11/11/08 11:26:36 AM
---
by James Kupfer
---
Has Jet Blue formed a double-bottom formation?
Security:
JBLU
Position:
Hold
From a January 2008 high of more than $16, Jet Blue (JBLU) has fallen to almost $3 even. Since then, Jet Blue has put in the beginning of a double-bottom W formation, but it still has not broken out.


As can be seen on Figure 1, JBLU was in an established downtrend when it bottomed in July. The stock then had a strong rebound with a rounded top. Although not a requirement for the formation, it does demonstrate good accumulation of shares even though the stock didn't have the strength to hold onto its gains. From there, price retreated to $3.09 to successfully retest the July low of $3.04. This retest is a requirement of forming a double-bottom. Unfortunately, volume during the price advance out of the second trough has not been especially strong, which would indicate increased buying pressure.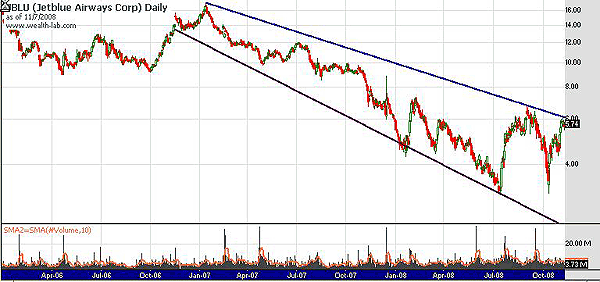 FIGURE 1: JBLU, DAILY. This stock was in an established downtrend when it bottomed in July.
Graphic provided by: Wealth-lab.
Jet Blue is now right up against the trendline from the January top to the most recent peak. This will, of course, act as resistance to continued upward movement. If JBLU breaks through that, it still has to cross $6.75 to break past the resistance level formed by the previous peak point in the W. If that happens, then this can legitimately be called a double-bottom. Until then, however, it is worth watching to see how thing progress. Should the price break out, the initial price target would be $10.50-11.00.


---
James Kupfer
Mr. Kupfer is a market professional and amateur stock market commentator. Disclosure: It is likely that Mr. Kupfer has or will enter a position in any security he writes about.
---
Click here for more information about our publications!
Comments
Date:
 11/18/08
Rank:
 1
Comment:
PRINT THIS ARTICLE