PRINT THIS ARTICLE
ELLIOTT WAVE
---
General Motors Collapses -- Is It The Beginning?
11/10/08 11:47:09 AM
---
by Koos van der Merwe
---
When major companies start collapsing, is this telling us that the end of the financial crisis is in sight? Is this the beginning of the beginning of the end?
Security:
GM
Position:
Accumulate
Lehman Brothers, a financial institution, was allowed to fail, and many lost their jobs. General Motors (GM) in now in financial difficulties. However, if it is allowed to fail, more than a few will lose their jobs. What now for GM, a company starved for cash in the current recession? Will it be allowed to fail? I don't believe so. The peripheral companies that rely on GM for business, the millions of workers that would lose jobs, is a situation that is far worse if not on par with the banking crisis. Allowing GM to go to the wall would be devastating for the US economy, and the impact would be felt across the world. So what do the charts say?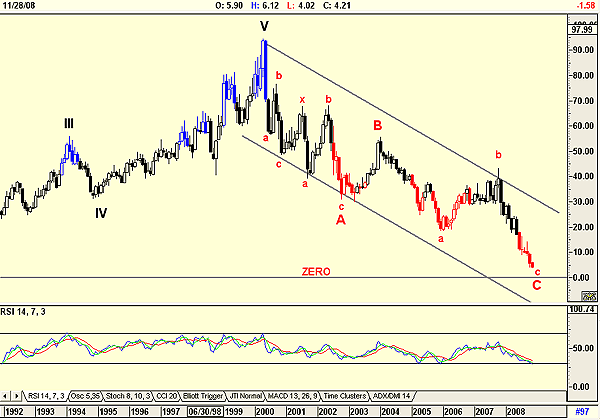 FIGURE 1: GM, MONTHLY. This chart suggests an end to its plummet.
Graphic provided by: AdvancedGET.
Figure 1 is a monthly chart of GM. I have tried to keep the Elliott wave count as simple as possible, with a wave B, if it is indeed one, hardly existing. This correction could be a wave A, with a wave B occurring and retracing 50% of this fall over the coming years, but I do not believe that. I believe the government will help GM, but with governmental control, almost nationalization. In other words, the wave count does look correct. Remember, Wall Street and banks were bailed out because of liquidity. GM should be bailed out because of jobs.

Figure 2 is a daily chart, and once again I have tried to keep the account simple.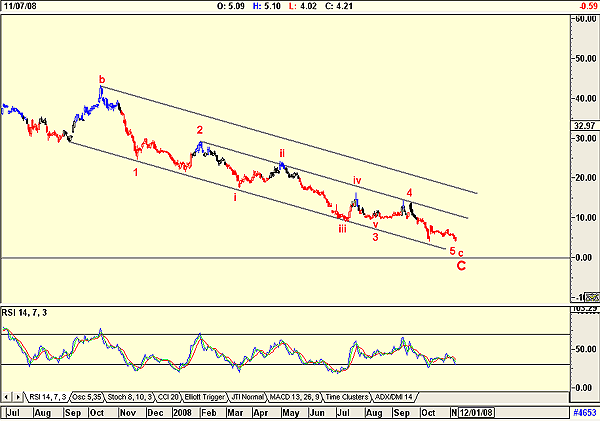 FIGURE 2: GM, DAILY
Graphic provided by: AdvancedGET.
Figure 2 does show a finality -- by this I mean a conclusion to wave C. The relative strength index (RSI) is also suggesting strength, a signal that has been pretty positive for a short-term buy in the past. Would I be a buyer at present levels? Yes -- if I had cash to spend that would not wake me up in a panic at 3 am.
In the same way the Federal Reserve assisted the US public with a bailout of Freddie Mae and Fannie Mac, so they have to assist disadvantaged workers until other jobs are found for them. Instead of building motor vehicles, they could rebuild bridges -- rebuild the US infrastructure, but whatever they do, the government must at all times protect their income needs, especially in these difficult times. I realize that this statement makes it seem as if I am a supporter of the labor unions, but I believe that unions have overextended their welcome and should be downsized. This is now a government decision, but I do not believe that even they know how big an influence GM has on the US economy.

My charts suggest that GM will not be allowed to fail, but then, neither did the charts of Lehman Brothers before they did.



---
Koos van der Merwe
Has been a technical analyst since 1969, and has worked as a futures and options trader with First Financial Futures in Johannesburg, South Africa.
| | |
| --- | --- |
| Address: | 3256 West 24th Ave |
| | Vancouver, BC |
| Phone # for sales: | 6042634214 |
| E-mail address: | petroosp@gmail.com |
---
Click here for more information about our publications!
Comments
Date:
 11/11/08
Rank:
 2
Comment:
PRINT THIS ARTICLE