PRINT THIS ARTICLE
GAPS
---
A BIG (Lots) Followup
10/13/08 09:23:53 AM
---
by James Kupfer
---
Big Lots has broken down technically over the last few months and appears to be heading down. How much further will it go?
Security:
BIG
Position:
Sell
On July 9, 2008, "A Big Short On Big Lots," I suggested that "this seems to be a good opportunity in which to short [shares of] BIG." After an initial drop from $32 to $26, the stock rebounded into a position in which it again looked suitable to initiate and short positions that may have been closed. Having now convincingly broken beneath the July low of $26, it seems to be a suitable time to see where BIG may be headed.


Before discussing a price target, we have to enter stops to protect any existing gains or newly established positions. The red circles show the times where BIG has set up $26 as a support/resistance zone. The old support level of $26 now turns into a resistance level, so you may wish to have stops close to $26.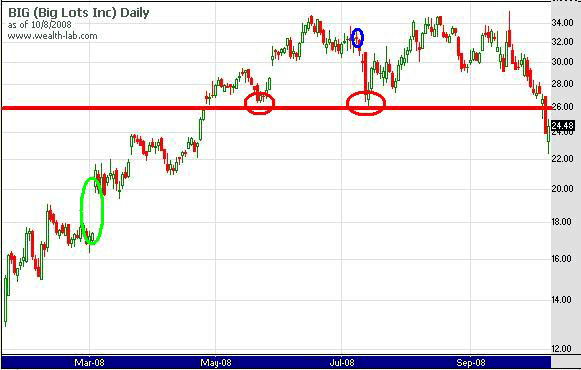 FIGURE 1: BIG, DAILY. The red circles show the times where BIG has set up $26 as a support/resistance zone.
Graphic provided by: Wealth-lab.
BIG has a historical tendency to create and subsequently fill large gaps. From 1990 on, there are eight gaps over 10% that we filled within a year and only two that were not. The green circle shown in Figure 1 is a big gap of roughly 22% that was formed in May. If history is to be any guide, then there is an 80% chance that BIG will close this gap in at most the next few months. The low end of the gap — and hence the price target — is $17.45. At BIG's current price, that is roughly $2.00 of risk for $7.00 of reward.


---
James Kupfer
Mr. Kupfer is a market professional and amateur stock market commentator. Disclosure: It is likely that Mr. Kupfer has or will enter a position in any security he writes about.
---
Click here for more information about our publications!
Comments
Date:
 10/14/08
Rank:
 5
Comment:
PRINT THIS ARTICLE