PRINT THIS ARTICLE
FIBONACCI
---
Gold's Fall From Grace
08/20/08 08:36:53 AM
---
by James Kupfer
---
Gold's speculative bubble has burst. Where are we headed from here?
Security:
GLD
Position:
Sell
I hope this won't come as a surprise to you, but it should be clear even to gold bugs that the yellow metal has been in a speculative bubble that started in 2001. Whenever an asset class rises from $250 to more than $1,000 in just a few short years, that is the mark of a bubble, akin to the fabled tulip stocks long ago and the technology stocks in 2000. Well, the gold bubble has burst.


If you study the history of market bubbles across multiple asset classes, you may note that the majority of those assets retreat approximately 90% of their gain since the bubble's beginning. That would indicate an eventual retreat of gold to around $325. This, however, will likely take a few years to come to pass, if ever.


In the meantime, let's focus on potential price targets that could happen over the next few months. Looking at Figure 1, you will see that I have drawn the three primary Fibonacci retracement levels on the chart. I used the 2001 bottom to this year's peak price.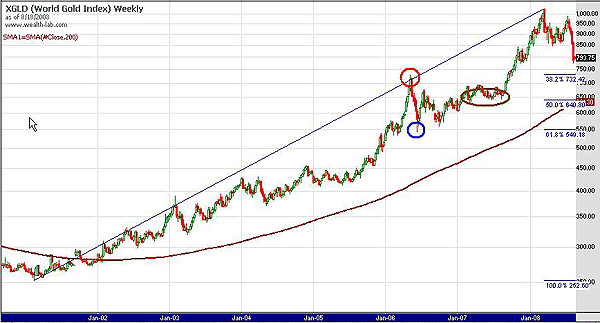 FIGURE 1: GLD, WEEKLY. Note the three primary Fibonacci retracement levels.
Graphic provided by: Wealth-Lab.
While Fibonacci levels are significant by themselves, you'll notice that each major level also corresponds closely to a significant technical resistance level. I have circled those resistance levels on the chart. The 2006 price peak, marked in red, now acts as support and is very close to the 38.2% retracement level. The 2006 price lows, circled in blue (but also earlier in the year), correspond to the 61.8% retracement level. Finally, the lower prices from the period of price congestion from 2007 (brown oval) match closely to the 50% retracement level. In the same vein, if you take 161.8% of the price movement between the March 2008 top and the May 2008 price low, you will find that it indicates a price target of almost $730. The 161.8% figure is a Fibonacci value that can be used to calculate price targets. And, of course, the $730 value is almost identical to the 38.2% retracement level mentioned earlier.


Given the bursting of this bubble, I think it is likely that gold will eventually move to at least the $550 level, but first it will have some very strong support along the way at $730 and $640. Look for these to be significant price levels that gold must hold to have any chance of eventually moving back up above the $1,000 level.


---
James Kupfer
Mr. Kupfer is a market professional and amateur stock market commentator. Disclosure: It is likely that Mr. Kupfer has or will enter a position in any security he writes about.
---
Click here for more information about our publications!
Comments
Date:
 08/25/08
Rank:
 3
Comment:
Date:
 08/26/08
Rank:
 3
Comment:
Date:
 08/28/08
Rank:
 5
Comment:
PRINT THIS ARTICLE