PRINT THIS ARTICLE
REL. STR COMPARATIVE
---
Trading Relative Strength Instead Of Price
08/18/08 09:13:06 AM
---
by Mike Carr, CMT
---
It is possible to profit from relative strength charts, basing buy and sell decisions only on this indicator instead of looking at price.
Security:
N/A
Position:
N/A
At the end of 2005, analysts upgraded Baxter International (BAX) based on the fundamental outlook. At that time, BAX was on a buy signal based on a point & figure chart of relative strength (RS), as shown in Figure 1. These charts eliminate the day-to-day noise inherent in any indicator and allow the analyst to focus solely on the longer-term trend. We can see that BAX had recently begun to outperform the market and had in fact broken a long downtrend in RS.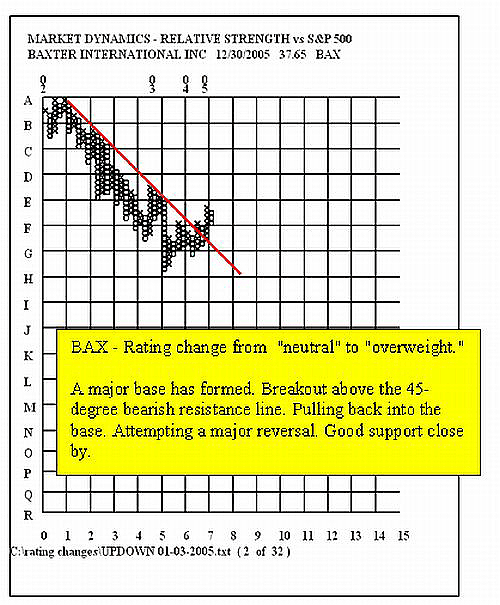 FIGURE 1: BAX, RELATIVE STRENGTH VS. S&P 500. As fundamental analysts upgraded BAX, RS was breaking out and signaling a buy on the point & figure chart.
Graphic provided by: Market Dynamics.
Another RS indicator, the momentum of comparative strength (MOCS), can be used to time buys and sells based upon movements of RS. MOCS applies moving average convergence/divergence (MACD)-type calculations to RS and allows us to obtain precise trading signals. Combining this indicator with the point & figure chart of RS leads to high-probability trading signals.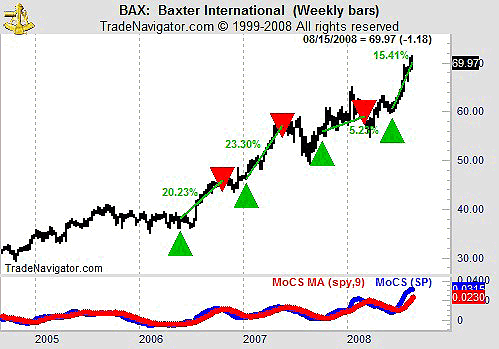 FIGURE 2: BAX, WEEKLY. MOCS gives four buy signals, all winners with sells timed to allow the trader to keep the majority of the profits.
Graphic provided by: Trade Navigator.
In this case, we buy BAX when MOCS crosses above its nine-period simple moving average. We sell when MOCS crosses below the moving average. With BAX on a RS buy based on the point & figure chart, there are four buy signals. Two gained more than 20%; one gained a little more than 5%; and the current trade is up by more than 15%. No trade suffered significant drawdown.


Without our even looking at price, these two RS indicators offer a powerful trading strategy that all traders should consider.


---
Mike Carr, CMT
Mike Carr, CMT, is a member of the Market Technicians Association, and editor of the MTA's newsletter, Technically Speaking. He is also the author of "Smarter Investing in Any Economy: The Definitive Guide to Relative Strength Investing," and "Conquering the Divide: How to Use Economic Indicators to Catch Stock Market Trends."
---
Click here for more information about our publications!
Comments
PRINT THIS ARTICLE