PRINT THIS ARTICLE
SHORT SQUEEZE
---
A Safe 10% Dividend?
08/14/08 08:35:58 AM
---
by Mike Carr, CMT
---
Markets overreact at times and create buying opportunities for the astute trader.
Security:
DRH
Position:
Buy
Diamondrock Hospitality (DRH) owns and operates 20 premium hotels in large cities. Obviously, real estate and luxury providers are being punished by the stock market on fears of an economic meltdown, but as Benjamin Graham pointed out, Mr. Market can be manic-depressive. In hindsight, manias such as the Internet bubble are easy to spot. The depressive episodes can often be identified in real time as the technicals deteriorate and fundamentals reach extreme values.


DRH pops up on value screens with a dividend yield of 10%. As a real estate investment trust (REIT), it distributes most of its earnings to shareholders. Cash flow from operations currently covers the dividend and analysts forecast adequate earnings for the next few years to sustain the rich payout.


The weekly chart of DRH shows a bottom-fishing candidate (Figure 1). The stock has declined significantly and seems to be moving higher. It has completed a bullish crossover in the stochastic, a signal that led to a short-term bounce earlier this year. The problem with bottom-fishing is that we can never be sure the decline is over. However, the advantage of bottom-fishing is that we can easily identify a stop at the recent lows, 9 in this case.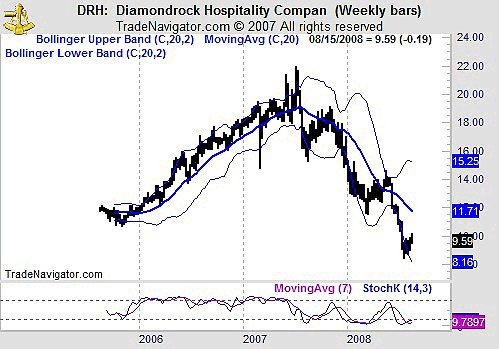 FIGURE 1: DRH, WEEKLY. Stochastics provides a reason to buy DRH.
Graphic provided by: Trade Navigator.
Additional bullish support is found in the large short interest in DRH. Buyins.net reports that shorts will need nearly two weeks of normal trading volume to cover their positions in this stock. With about 12% of the float shorted, there is a lot of potential demand. The squeeze trigger represents the average price level where short positions were initiated. At this level, many shorts are likely to cover their trade and find a more profitable opportunity in the market. Buyins.net calculates that the average short is close to the point where they are losing money since the squeeze trigger is 9.78. Shorts are also responsible for paying the hefty dividend on DRH, which makes this stock a strong buy at current levels.


---
Mike Carr, CMT
Mike Carr, CMT, is a member of the Market Technicians Association, and editor of the MTA's newsletter, Technically Speaking. He is also the author of "Smarter Investing in Any Economy: The Definitive Guide to Relative Strength Investing," and "Conquering the Divide: How to Use Economic Indicators to Catch Stock Market Trends."
---
Click here for more information about our publications!
Comments
Date:
 08/14/08
Rank:
 5
Comment:
PRINT THIS ARTICLE