PRINT THIS ARTICLE
STRATEGIES
---
Limiting Risk In China
08/08/08 08:43:01 AM
---
by Mike Carr, CMT
---
The Chinese stock market is among the most volatile in the world. Yet an Internet stock may offer a conservative way to gain exposure to this market.
Security:
NCTY
Position:
Buy
With an estimated 253 million web surfers in China, The9 Limited (NCTY) is in an undisputed growth industry. The company holds exclusive rights to operate multiplayer, role-playing online games such as "World of Warcraft" and "Audition 2" in this market. Earnings are up by 36% in the most recent quarter with revenue up by more than 60%. The price/earnings ratio is only 18 at recent price levels, and other fundamental factors also make this stock a popular name on value screens.


From a technical perspective, the daily chart of NCTY is bullish (Figure 1). We may have a double bottom in place, and the price is trying to break through the 20-day moving average. The stochastics indicator recently signaled a buy with a bullish crossover from an oversold condition. The only concern on the chart would be the overhead resistance visible at 28, which provides an initial profit target.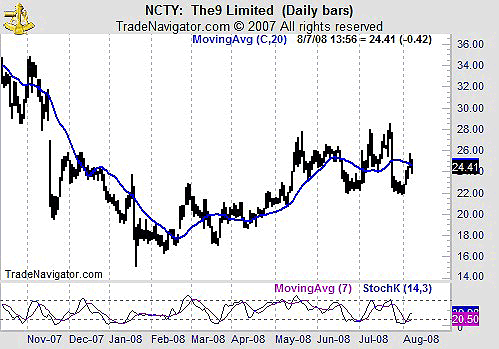 FIGURE 1: NCTY, DAILY. NCTY offers compelling bullish indicators on this chart.
Graphic provided by: Trade Navigator.
Additional bullish support is found in the large short interest in NCTY. Buyins.net reports that shorts will need almost three weeks of normal trading volume to cover their positions in this stock. With about 11% of the float shorted, there is a lot of potential demand. The squeeze trigger represents the average price level where short positions were initiated. At this level, many shorts are likely to cover their trade and find a more profitable opportunity in the market. Buyins.net calculates that the average short is now losing money since the squeeze trigger is 22.81. NCTY represents a strong buy at current levels. A stop at the squeeze trigger and a profit objective at overhead resistance results in a trade with a 2:1 reward-to-risk ratio.


---
Mike Carr, CMT
Mike Carr, CMT, is a member of the Market Technicians Association, and editor of the MTA's newsletter, Technically Speaking. He is also the author of "Smarter Investing in Any Economy: The Definitive Guide to Relative Strength Investing," and "Conquering the Divide: How to Use Economic Indicators to Catch Stock Market Trends."
---
Click here for more information about our publications!
PRINT THIS ARTICLE