PRINT THIS ARTICLE
STRATEGIES
---
A Long Trade In A Declining Market
06/30/08 10:05:49 AM
---
by Mike Carr, CMT
---
Even as the market averages move into bear market territory, long trades can be found using technical trading strategies.
Security:
FRED
Position:
Buy
Fred's (FRED) operates nearly 700 discount general merchandise stores and almost 300 pharmacies in 15 states, primarily in the southeastern United States. With revenue of $1.8 billion, it's actually a smaller player in its industry. But it has the highest price/earnings (P/E) ratio among discount stores. Earnings estimates have been moving steadily higher, and earnings growth is expected to continue at a double-digit pace for the next five years.


The stock has recently broken through an extended downtrend since 2003 (the blue line in Figure 1). A shorter-term trendline, extending back to 2005, has also been broken to the upside (the red line). Prices are also right at the 20-month moving average (the green line in Figure 1), a line that has shown clear trend changes when broken decisively in the past. The stochastic is also bullish, a condition that has signaled at least brief rallies in the past.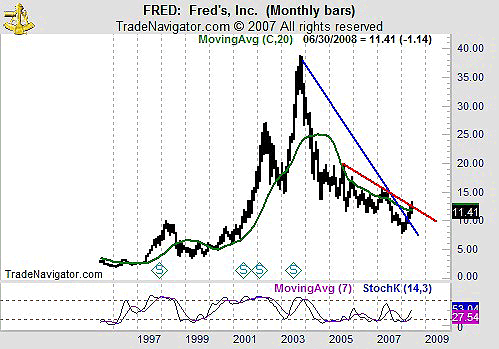 FIGURE 1: FRED, MONTHLY. Current prices in FRED may have broken a long-term downtrend.
Graphic provided by: Trade Navigator.
The weekly chart of FRED (Figure 2) shows that price is above the 50-week moving average, a level that has been whipsawed repeatedly since 2006. Momentum, shown as the momentum of comparative strength (MOCS), is bullish. MOCS applies a moving average convergence/divergence (MACD)-like calculation to relative strength and makes it easy to spot turning points in strength on a chart.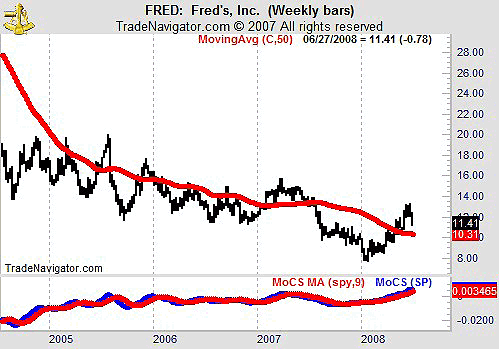 FIGURE 2: FRED, WEEKLY. The weekly chart is also bullish and shows relative strength is confirming the price action.
Graphic provided by: Trade Navigator.
Buying FRED in an oversold market offers a low-risk long strategy. The 50-week moving average provides a stop-loss point about a dollar below current prices. The first significant overhead resistance is three points higher. A three-to-one reward-to-risk ratio on a long trade in the current market environment is a compelling opportunity.


---
Mike Carr, CMT
Mike Carr, CMT, is a member of the Market Technicians Association, and editor of the MTA's newsletter, Technically Speaking. He is also the author of "Smarter Investing in Any Economy: The Definitive Guide to Relative Strength Investing," and "Conquering the Divide: How to Use Economic Indicators to Catch Stock Market Trends."
---
Click here for more information about our publications!
PRINT THIS ARTICLE