PRINT THIS ARTICLE
STRATEGIES
---
Underfollowed Stocks Can Benefit Technicians
06/25/08 08:38:16 AM
---
by Mike Carr, CMT
---
Some stocks like Presidential Life have no analyst coverage, which means little trading activity. These stocks can present profitable opportunities to alert technicians.
Security:
PLFE
Position:
Buy
Presidential Life (PLFE) is a small life insurance company with erratic earnings. Revenue of approximately $400 million a year makes it a small player in the industry. It also serves a niche, selling guaranteed-issue policies to older citizens, which generates small profits. The earnings may even out as these policies gain market share, but without analyst coverage, no one knows for sure. Trading a stock without fundamental projection requires traders and investors to rely more on technicals.


In Figure 1, the weekly chart of PLFE shows the momentum of comparative strength, which applies a moving average convergence/divergence (MACD)–type calculation to relative strength. In this chart we see a recent bullish crossover in this indicator, a sign of price trend change on previous occurrences in PLFE. We can also see that the one-month moving average has recently crossed above the one-year moving average, another bullish indicator.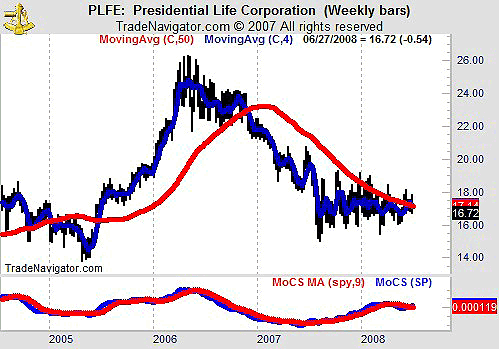 FIGURE 1: PLFE, WEEKLY. Relative strength in PLFE has been strong and recently crossed its own moving average, indicating further price gains are likely from this level.
Graphic provided by: Trade Navigator.
In Figure 1, we see a longer-term view of relative strength. Looking at Figure 2, we see a longer-term view of momentum. In this case, stochastics bottomed on the monthly chart and has been moving higher. This confirms the change in relative strength and adds to the bullish scenario for PLFE.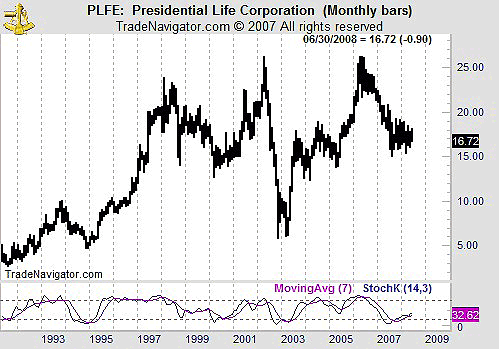 FIGURE 2: PLFE, MONTHLY. Long-term stochastics is bullish after becoming oversold, a condition that accompanied significant price advances in 1994 and 2003.
Graphic provided by: Trade Navigator.
Additional bullish support is found in the large short interest in PLFE. Buyins.net reports that shorts will need more than four weeks of normal trading volume to cover their positions in this stock. With more than 80% of the available stock owned by insiders and institutions, shorts will need to cover their trades from the few available shares. The squeeze trigger represents the average price level where short positions were initiated. At this level, many shorts are likely to cover their trade and find a more profitable opportunity in the market. Buyins.net calculates that the average short is now losing money since the squeeze trigger is 15.66. PLFE also pays a 2.9% dividend, which increases the pressure on the shorts. At current levels, PLFE represents a strong buy.


---
Mike Carr, CMT
Mike Carr, CMT, is a member of the Market Technicians Association, and editor of the MTA's newsletter, Technically Speaking. He is also the author of "Smarter Investing in Any Economy: The Definitive Guide to Relative Strength Investing," and "Conquering the Divide: How to Use Economic Indicators to Catch Stock Market Trends."
---
Click here for more information about our publications!
PRINT THIS ARTICLE