PRINT THIS ARTICLE
SEASONAL TRADING
---
Seasonal Trading Strategy: Buy STZ
06/03/08 11:55:14 AM
---
by Mike Carr, CMT
---
This stock has gone up more than 70% of the time in June, and it is a potential winner in the month ahead.
Security:
STZ
Position:
Buy
Each month, we look for high-probability seasonal trades. The strategy is simply to find the stocks that have delivered reliable gains over time, based solely on buying the first of the month and selling at the end of the month. This is not simply an exercise in data mining, but recognition of the fact that some stocks should do better at different times of the year than others. No effort is made to understand the rationale for outperformance; traders don't need to know why an idea works. The traders' job is to react to the market and trade the plan..


This month, we see that Constellation Brands (STZ) has been up 71% of the time over the past 21 years. Over that same time frame, STZ has been a gainer in only 52% of all months. That indicates there is an edge for the trader going long STZ in June. The next step in the process is to look at the chart and see if the trade is likely to work in the coming month. Figure 1 shows that STZ has done well in the past few weeks, is near its upper Bollinger band, and stochastics looks like it is overbought.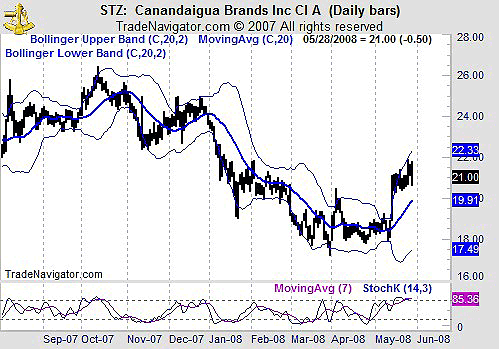 FIGURE 1: STZ, DAILY. The daily chart of STZ indicates that the stock may be at overbought levels.
Graphic provided by: Trade Navigator.
Looking back at history, we see that the current chart resembles STZ in 2004. The stock had run up in the month before, was walking the Bollinger band higher, and stochastics had reached overbought levels. The seasonal trade still worked, returning a bit more than 4% that month. See Figure 2.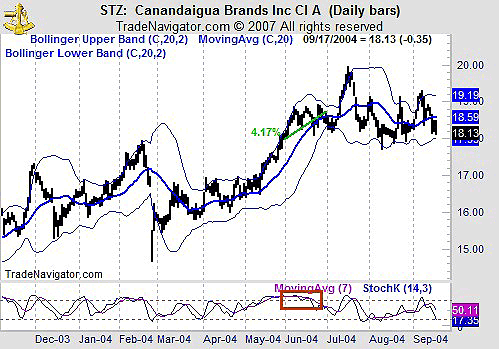 FIGURE 2: STZ, DAILY. The daily chart of STZ from 2004 shows similar overbought conditions existed at that time, and the stock continued higher.
Graphic provided by: Trade Navigator.
Traders seeking a high-probability opportunity should look at STZ for a trade in June. A stop at the 20-day moving average, currently near 20, limits the downside to about 5%. Conservative traders could use a stop to enter above May's high of 21.90.


---
Mike Carr, CMT
Mike Carr, CMT, is a member of the Market Technicians Association, and editor of the MTA's newsletter, Technically Speaking. He is also the author of "Smarter Investing in Any Economy: The Definitive Guide to Relative Strength Investing," and "Conquering the Divide: How to Use Economic Indicators to Catch Stock Market Trends."
---
Click here for more information about our publications!
Comments
Date:
 06/05/08
Rank:
 1
Comment:
PRINT THIS ARTICLE