PRINT THIS ARTICLE
STRATEGIES
---
Demand May Overwhelm Supply of Deluxe
05/21/08 02:27:30 PM
---
by Mike Carr, CMT
---
Multiple indicators point to higher prices for Deluxe.

Security:
DLX
Position:
Buy
Deluxe (DLX) has multiple bullish indicators and looks like a strong buy at current levels. The weekly chart (Figure 1) has a promising chart pattern and four positive indicators. Price just closed above its 20-week simple moving average, a reliable trend indicator in the past for this stock. Prices formed a nice rounding bottom pattern, and the moving average break points to a short-term target of 29. The stochastics indicator rose strongly from oversold extremes and has a lot of room to move higher before it becomes oversold. The moving average convergence/divergence (MACD) is in the same position, and the relative strength index (RSI) also turned bullish.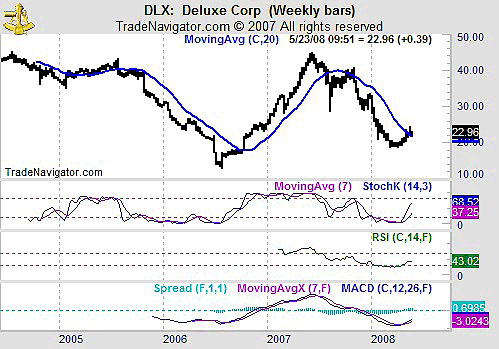 FIGURE 1: DLX, WEEKLY. This chart of Deluxe points to higher prices ahead and is uniformly bullish.
Graphic provided by: Trade Navigator.
Additional bullish support is found in the large short interest in DLX. Buyins.net reports that shorts will need more than two weeks of normal trading volume to cover their positions in this stock. With almost 10% of the float shorted, there is a lot of potential demand. The squeeze trigger represents the average price level where short positions were initiated. At this level, many shorts are likely to cover their trade and find a more profitable opportunity in the market. Buyins.net calculates that the average short is now losing money since the squeeze trigger is 22.59.


Another factor to consider when looking at short interest in a stock is the dividend yield. DLX has a long history of paying dividends, and the current yield is 4.4%. Those who own the stock receive $1.00 a year from the company in dividends. Shorts borrow stock from these owners and are liable for the amount, creating a potential cash crunch for those looking to take short-term profits from a decline.


As shorts cover their positions, DLX has the potential for a rapid move to the upside. At the current price, risk can be limited to 3 points, with a 2:1 reward-to-risk ratio. While other trades offer better potential, the potential short squeeze in DLX offers an upside kicker and possibly rapid gains.



---
Mike Carr, CMT
Mike Carr, CMT, is a member of the Market Technicians Association, and editor of the MTA's newsletter, Technically Speaking. He is also the author of "Smarter Investing in Any Economy: The Definitive Guide to Relative Strength Investing," and "Conquering the Divide: How to Use Economic Indicators to Catch Stock Market Trends."
---
Click here for more information about our publications!
PRINT THIS ARTICLE