PRINT THIS ARTICLE
FIBONACCI
---
Fibonacci Levels Can Identify Support And Resistance
05/16/08 11:35:22 AM
---
by Mike Carr, CMT
---
Many floor traders look at these price points to take action, and screen traders can also benefit from this indicator.
Security:
MVIS
Position:
Buy
Microvision (MVIS) is a low-priced stock that offers a lesson in the value of following Fibonacci support and resistance levels. In this case, those levels have dramatically stopped price advances and limited declines. In Figure 1, we see that MVIS formed an initial basis just below the 38.2% retracement at 2.90. After piercing this resistance, this price point offered support as prices moved between the 38.2% retracement level and the 50% retracement level. Now prices are ready to challenge the final Fibonacci resistance at 3.52, the 61.8% retracement level. See Figure 1.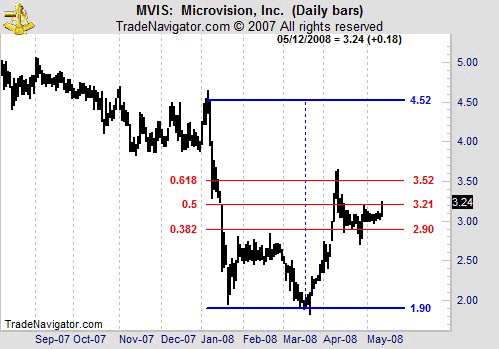 FIGURE 1: FIBONACCI. Fibonacci levels have proved to present formidable resistance to price in MVIS.
Graphic provided by: Trade Navigator.
A more traditional indicator, the 20-day simple moving average, has also been providing support and resistance to price (Figure 2). MVIS has broken above this moving average, which can now be used as a stop level for a long trade. In addition, the moving average convergence/divergence (MACD) is about to offer a buy signal. Aggressive traders can buy now while more conservative traders can wait for momentum to confirm the price action and buy after the MACD signal occurs.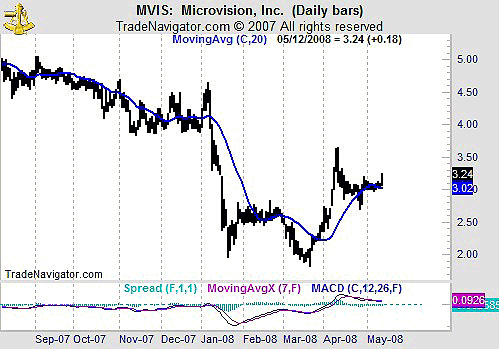 FIGURE 2: MVIS, DAILY. The 20-day moving average has also offered support and resistance and marked consolidation areas on the daily chart of MVIS.
Graphic provided by: Trade Navigator.
Additional bullish support is found in the large short interest in MVIS. Buyins.net reports that shorts will need almost two weeks of normal trading volume to cover their positions in this stock. With more than 10% of the float shorted, there is a lot of potential demand. The squeeze trigger represents the average price level where short positions were initiated. At this level, many shorts are likely to cover their trade and find a more profitable opportunity in the market. Buyins.net calculates that the average short is now losing money, since the squeeze trigger is 3.30. MVIS represents a strong buy.


---
Mike Carr, CMT
Mike Carr, CMT, is a member of the Market Technicians Association, and editor of the MTA's newsletter, Technically Speaking. He is also the author of "Smarter Investing in Any Economy: The Definitive Guide to Relative Strength Investing," and "Conquering the Divide: How to Use Economic Indicators to Catch Stock Market Trends."
---
Click here for more information about our publications!
PRINT THIS ARTICLE