PRINT THIS ARTICLE
TECHNICAL ANALYSIS
---
Nasdaq's Technical Knockout
05/07/01 02:29:55 PM
---
by David Penn
---
Declining prices meet rising volume in a winner-take-all prizefight in May.
Security:
QQQ
Position:
N/A
In the sport of boxing, a pugilist who is knocked down three times in one fight has a pretty good chance of being called "technically knocked out", or TKO'd. The rationale behind this is perhaps a shred of humanity in an otherwise brutal sport; even if the boxer doesn't stay down, the fact that the boxer has been knocked down repeatedly in the course of the fight is good enough evidence that the contest, for all intents and purposes, is over.


Something similar may be said of the Nasdaq. After churning a bit over the late spring and summer of 2000, the Nasdaq (as represented by the Nasdaq 100 Unit Trust, or QQQs) was knocked down in the fall of 2000, dropping 49% from early September 2000 to early January 2001. A two week rally in January provided what they call in the boxing business a "standing eight count"--a procedure during which the referee allows a downed-but-not-out boxer eight seconds (after rising to his feet and moving to a neutral corner) to clear the cobwebs.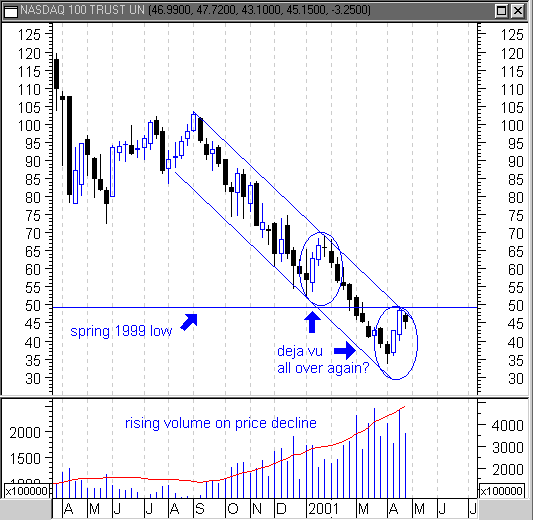 Another two-month downtrend, another two-week rally ... Rising volume on falling prices anticipate further declines for the QQQs.
Graphic provided by: MetaStock.
Unfortunately, as if often the case in the boxing ring, this temporary respite did little good for the QQQs. From late January 2001 to early April, the QQQs were knocked down again, this time losing 50% of their value. And once again, a two-week rally in April allowed the Nasdaq to shake its head a bit, smack gloved fists together and grunt, "I'm alright! Let's get it on!"


Indeed. Now if you were in a position to wager, which would seem the more likely to happen next? That the twice-downed fighter would stage a brave and dramatic recovery in short order, besting his opponent and winning the day? Or that three times may prove a charm and our heroic pugilist en route to another visit with the canvas?


I'm going with the canvas. Since August 2000, the QQQs have had 24 down weeks compared to 10 up weeks--and only twice did those up weeks occur consecutively. Those instances would be the two failed rallies in January and April. But most of the time the Nasdaq has been seeking lower ground like water from a tipped barrel. If anything, the Nasdaq's decline has been notable for the absence of even short-lived consolidation. When rallies have failed--as they did in January and April--the bulls don't just retreat to the pasture. Apparently, as the rising volume trend during the price decline suggests, these beaten bulls don bear claws.


---
David Penn
Technical Writer for Technical Analysis of STOCKS & COMMODITIES magazine, Working-Money.com, and Traders.com Advantage.
---
Click here for more information about our publications!
Comments
PRINT THIS ARTICLE